---
Theater, Film, and Make-Up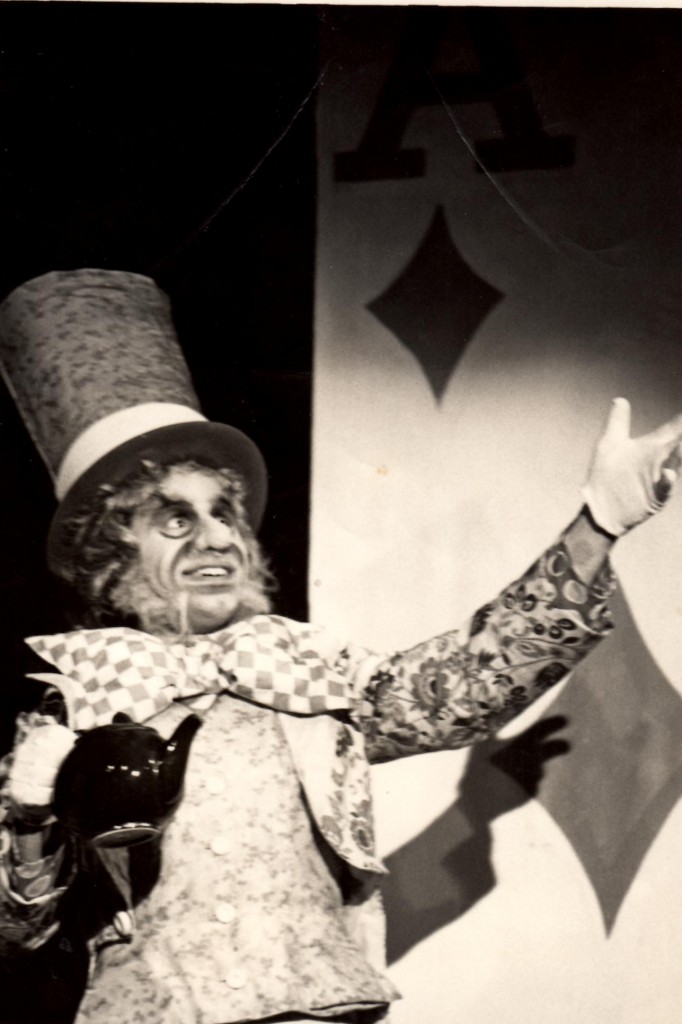 As the Mad Hatter in "Alice in Wonderland"

Since this page displays photos from some of my stage productions, along with pictures of some of my theatrical makeups, I thought it fitting to start off with an example that effectively shows both. The production from which the photo above came was presented by a noted children's theater troupe in Massachusetts in the early 1970s. I had a little teacup and saucer attached to the top of my head under the hat, and at one point in the show I removed the hat, reached up and grabbed the cup, and pretended to sip the tea!

Hereafter, I will divide the photos and commentary into separate sections. The first will deal with my stage and film roles and the second will show makeups, mostly ones that for one reason or another were not done for specific stage productions.



Stage and Film Productions


Unfortunately, I don't have photos for all of the more than sixty stage shows I did in a variety of venues, including high school, college, community theater, and professional. (The professional ones included shows in New York, dinner theater and other touring shows cast in New York, and summer stock). But I think that the ones depicted here are a fairly representative selection and show some of my range as an actor. I attended Natick High School, in Natick Massachusetts, where I appeared in a number of shows. From there, I went to Syracuse University, which had a drama department with a good reputation. I did numerous major and minor productions there before moving to New York City to try to make my living as an actor. Later, when I settled down to start writing screenplays and teleplays (and eventually books), I did some community theater shows when I could find the time. I will try to present these selected shows more or less in chronological order. 


















































One of the first roles I played as a freshman at Syracuse was the mad king in Belgian playwright Michel de Ghelderode's 1927 play "Escurial." Set in a shadowy, spooky medieval castle, this powerful piece consists of the dramatic, emotional interplay between the demented monarch and his court jester, who is strangled to death onstage at the end by a robed executioner. I actually did two separate productions of the play that year. The first was directed by a drama department graduate student. When we performed the play, one of the department faculty members was present. After the show, he came backstage and told me and the actor playing the jester that he had recently seen a production of the play off-Broadway and felt that we had brought the characters to life better than the actors in that professional version. He asked us if we would like to redo the play in a new production with him as the director. We naturally said yes and had a great time getting even deeper into the roles and learning a lot in the process. I did an appropriately macabre makeup for the role, with disjointed facial features, a large scar, and rotted teeth. My appearance and performance in this play made quite an impression on a lot of people in the department and as a result I gained much respect as an actor and made several new friends, some of whom appeared with me in later productions.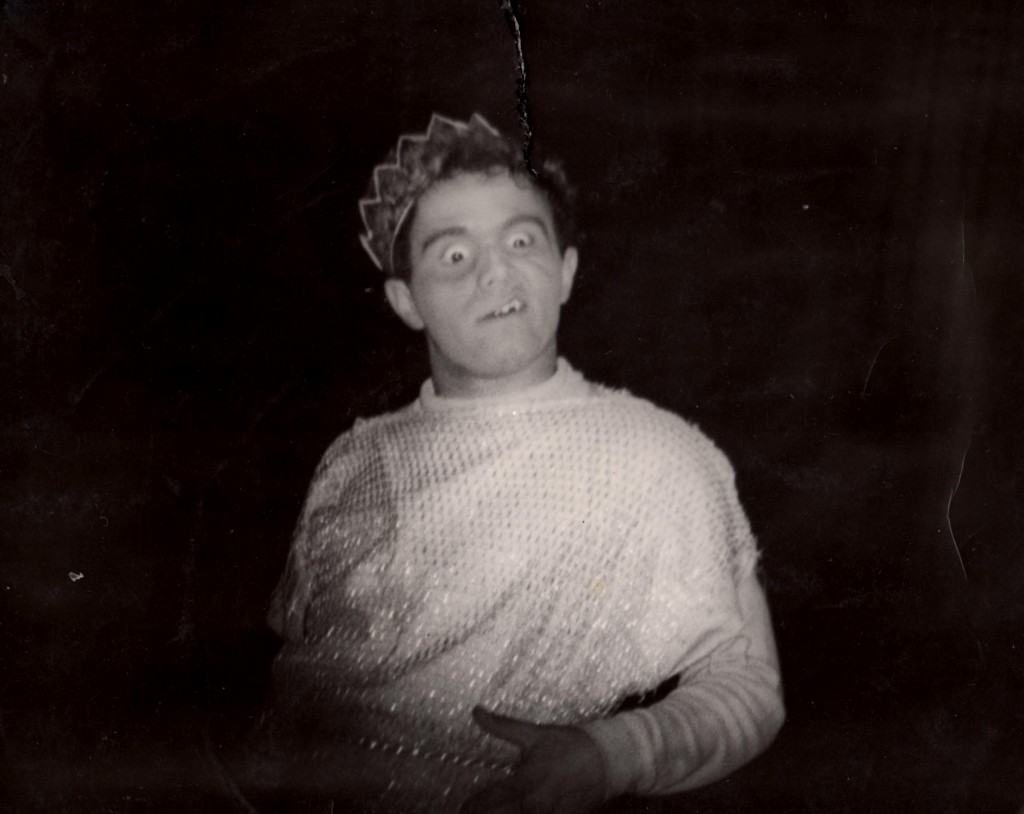 As the king in "Escurial"

Among the many other roles I played at Syracuse were the Coolie in Bertolt Brecht's "The Exception and the Rule," Geppetto in the children's classic Pinocchio, the Royal Priest in Indian playwright Rabindranath Tagore's moving drama Sacrifice, Silvius in Shakespeare's As You Like It, and Thomas Becket in Becket.  I also designed make-ups for a number of productions, among them a lavish stage version of Kurosawa's classic Rashomon, and a large-scale presentation of King Lear. In addition, I staged the wrestling scene for As You Like It and the sword-fights for King Lear. (I was a wrestler in high school and an actor friend taught me how to fence.)

At left, below, is me as the Royal Priest in Sacrifice, a Lear-like role with a scene in which that character, an intimidating, somewhat unnerving leader of an Indian temple, loudly mourns for his dead son. (After the show, several actors who attended approached me, told me how much they liked my performance, and said that I should definitely try to do Lear someday when I was older. Coming from fellow actors, that was high praise indeed.) While at Syracuse, I became friends with the play's extremely talented director, Ken Sherber. He also directed me in Becket, which was presented on a large raked stage erected in front of the altar of a local cathedral. This imposing setting, along with an echo effect generated by the cavernous interior of the cathedral's main room, helped to make the production very atmospheric. The photo on the right below is of me in the scene in which Becket calls on God to "Make me worthy!"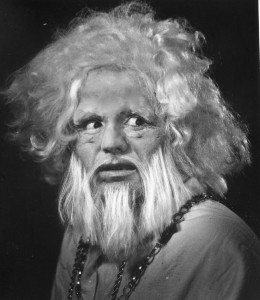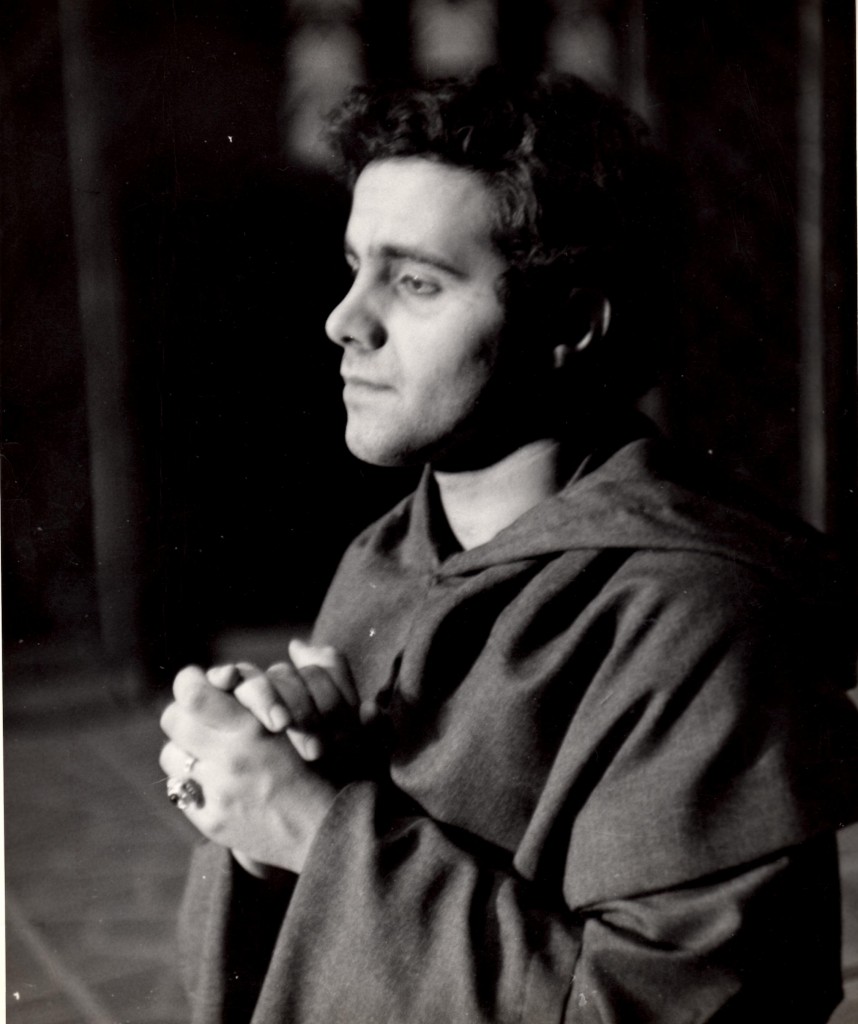 After leaving Syracuse, I went to New York City to try to make a living as an actor. I managed to do so, more or less, for a few years. Directly below are three of my "head-shots," photos,usually with a resume attached, that actors hand or send to producers and/or directors of the shows for which they are auditioning. Many actors had (and likely still have) just one standard head-shot that they use for every audition. In contrast, I used several, in each case choosing the one that I felt made me look most appropriate for the role I was trying to get.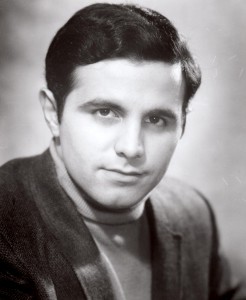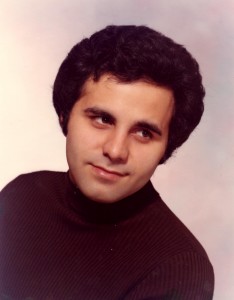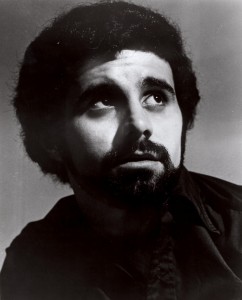 Sometimes I made special head-shots for specific auditions. For instance, when trying out for Shakespearean plays or other shows in which there were many character parts, I often used a composite photo that showed me in four different makeups and costumes. It was designed to show my versatility, as well as my makeup abilities. I know for a fact that this approach could work well because on at least three occasions, after I was hired for a role the director told me that a major part of his decision was based on the makeup photos.
In one case, I used the shot of me as the white-haired Royal Priest in Sacrifice (see above) as one of the four photos in a composite head-shot, and the director pointed to the shot and said, "All along I've been picturing one of the characters in this production as looking sort of like this! You did this makeup yourself?" After I said "yes," we began planning how the character would look and sound. As it turned out, we ended up making him a good deal less extreme-looking. By the opening performance, he was much younger and had only a mustache, but that didn't matter because I was already in the cast and the director enjoyed working with me.
Another example was when I tried out for the original Broadway production of "Hair." I was about twenty-one at the time. As you can see from the three head-shots above, none of them screamed "hippie-type," which is what they were looking for. So I had a friend take a shot of me in a getup that seemed more appropriate, with a fur vest worn over my hairy bare chest,a headband around my forehead, and a look of angst or anger, or both, on my face!. We took the shot, shown below, on the roof of the apartment building I was living in at the time. (For reasons that I will never know, I didn't get into the show.)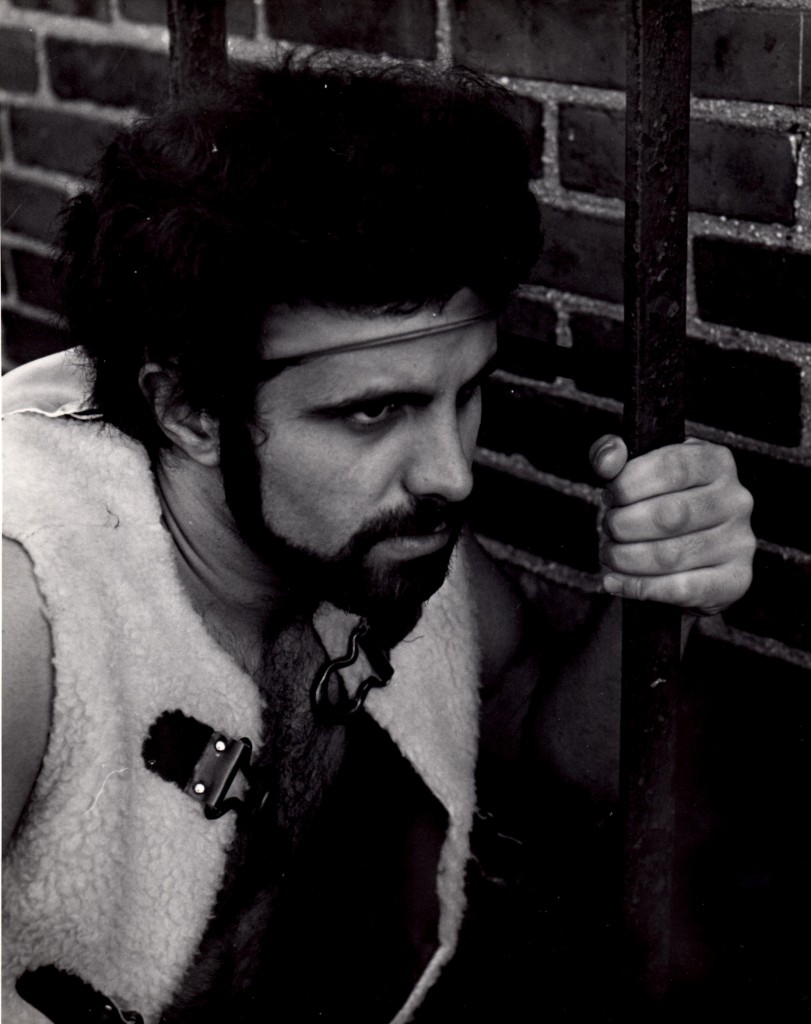 What is more certain is that I disliked living in the city so much (too crowded, noisy, and dirty for me) that I was determined to accept any decent offer to do a touring show that took me out of town. I got several such gigs in those days, the first of which was a dinner theater tour of the American South in which the cast spent a month in each city. The show was a murder mystery, "Catch Me If you Can." And I was originally cast as Sidney, the Jewish owner of a New York sandwich shop who has an important connection to the victim.
About half way through the show, Sydney gets shot right on stage. Because of my experience in wrestling, gymnastics, and judo in my teen years, I was able to do an extremely realistic, nasty-looking  fall, which elicited sounds of shock and awe from the audience in every performance. On the left below is a shot of me in the roll from one of the many performances. (I think we did seven per week.) The reason that some audience members are visible in the background is that it was an arena stage, essentially theater in the round. Sydney was more or less the comic relief of the show and audiences tended to really enjoy the character. One teenage girl liked him so much that during a performance she did a sketch of him and later mailed it to me at the theater. I was extremely flattered, so much so that I kept the drawing, which appears below on the right.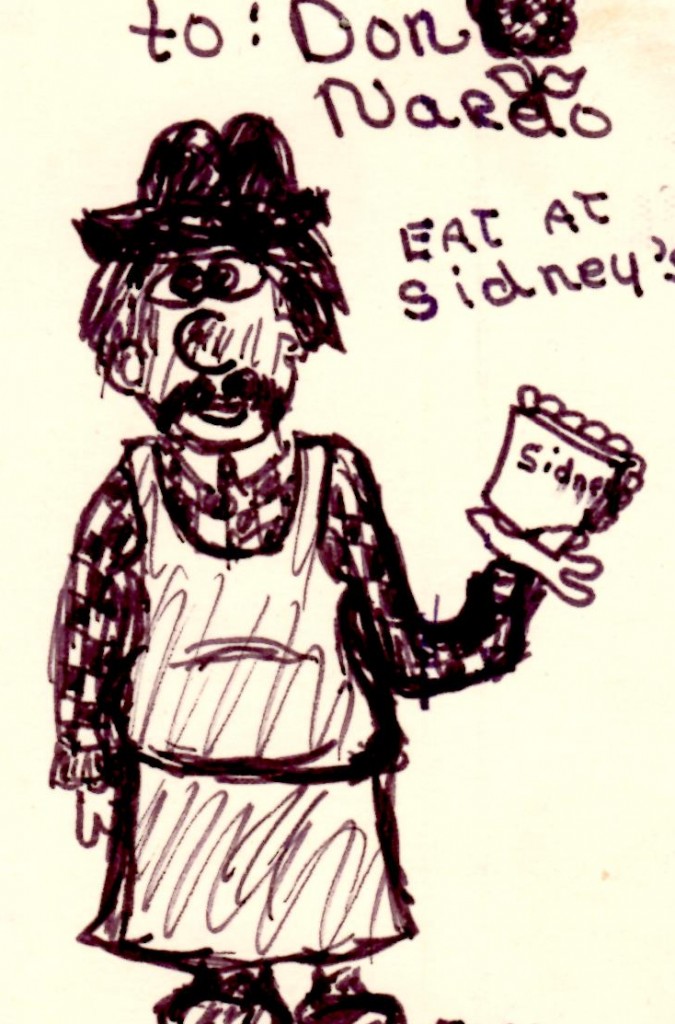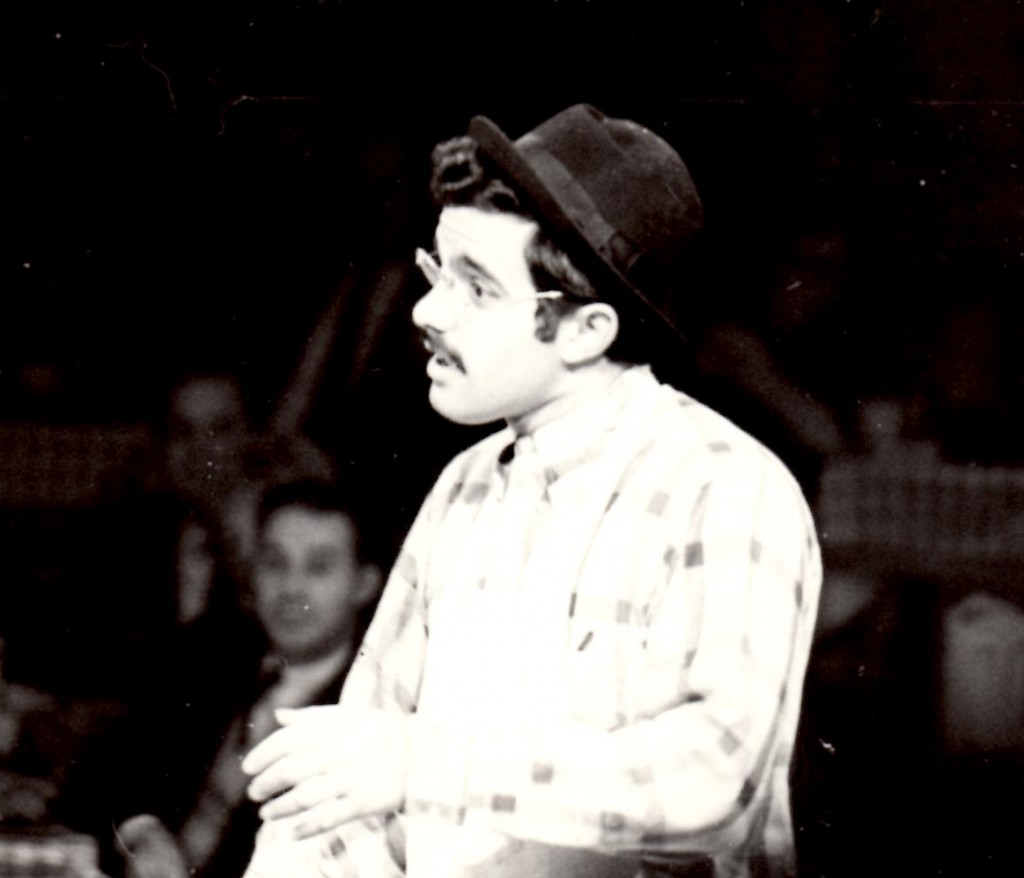 A few months into the show's run, the actor playing the co-lead role in the play, Inspector Levine, announced he was leaving the production. A couple of days later, I got a call from the director, Neal Israel (who later wrote and directed Bachelor Party, Police Academy, and numerous other popular comic movies), who told me he wanted me to take over the part of  Inspector Levine. And not long afterward he came down from New York to redirect the show.  He had asked the first actor playing the part, who was in his late sixties, do it straight, as written, as an older, seasoned detective with a gruff exterior.
But Neal and I worked out a different approach to the role. My Levine was the son of the original one, a more precocious, versatile, and shrewd detective than his father. Throughout much of the play, I portrayed him as a sort of naive, bumbling character who is green in the job and doesn't seem to know exactly what to do to solve the murder around which the plot revolves. Near the end, however, it is revealed that this was all a ploy, and that Levine had been projecting a bumbling persona in order to keep the man whom he suspects of being the murderer off-guard. At a preplanned moment, the inspector reveals that he is actually a brilliant detective who has been manipulating the murderer all along.
I knew that both this concept of the role and my performance were a success because every time we did the show, at the moment when Levine revealed his true nature, and accordingly, my voice and demeanor suddenly changed rather drastically, a hushed but quite audible sound of surprise and disbelief rippled through the audience. Moreover, the ovations I received in the curtain calls were among the biggest and most enthusiastic I've ever received in the more than sixty stage shows I've done. Below is a shot of me in the role.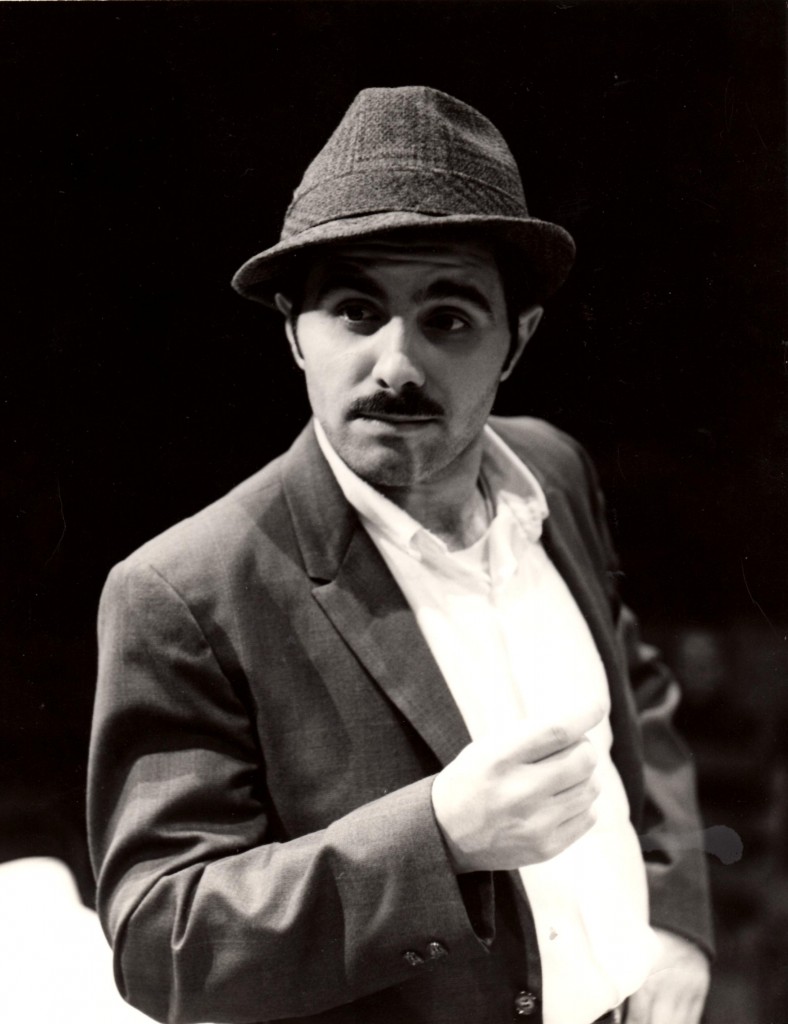 Another opportunity to act far from the madding crowds of New York City came when a producer/director to whom I had sent one of my composite head-shots and resumes called in June 1968. Up to that point, I had not been able to find a summer stock job outside the city and fully expected that I would have to spend a muggy, miserable summer in the Big Apple. He said that his lead actor had dropped out at the last minute. He normally did not hire people sight unseen, without a live audition, he said. But based on my "highly impressive character shots" (his words, not mine) and the list of shows I had done, he was willing to take a chance.
The catch was that he needed me to be at the theater (in upstate New York) the next day, so he wanted a "yes" or a "no" within an hour or two. I was just happy to have the opportunity to spend the summer outside the city, so I said "yes," jumped on a bus the next morning, and arrived there a few hours later. It turned out to be a good decision. I ended up playing the leads in Blithe Spirit (my second time playing the role of Charles), Design for Murder (another role as a detective), UTBU ("Unhealthy to be Unpleasant"), a silly but entertaining play that Tony Randall had done on Broadway; I played his role, a larger-than-life, blustering fellow who looks like "Uncle Sam," which gave me another chance to show off my makeup abilities; and the 1920s classic musical Good News. As it turned out, the producer/director was extremely happy with his choice to hire me over the phone. (Unfortunately, the photos I had of myself in these roles are among a group of pictures that I lost in my later travels.)

In that same year (1968), however, I had a much less memorable experience. At the time, You're a Good Man Charlie Brown (the famous musical based on the widely loved Peanuts comic strip), was still running on Broadway. The folks in charge were looking for actors to serve as understudies to the various parts and I auditioned. I figured that the juicy role of Snoopy was my best bet and dressed accordingly (in black pants and a white turtle-neck). It worked, as I was chosen to be an understudy to Snoopy.
As you can imagine, I religiously checked my messages at the phone service I then used at least once a day. And when I heard nothing from the Charlie Brown people for a couple of months, I figured that the guy playing Snoopy was in good health and didn't need a stand-in. But I was wrong!  I waited another month, and I finally called the person for whom I had auditioned (the producer? I don't remember) to check in. His first words were something like "What the hell happened to you?" When I replied that "nothing" had happened to me and that I had constantly checked my messages, hoping to hear from him, he let out an enormous sigh and moaned, "Oh NO, no, no, no!"
It turned out that only about two weeks after I had auditioned, the guy playing Snoopy had not been able to make some performances (for reasons I was never told, perhaps a temporary illness). The producer or whoever it was had left a message at my service, asking that I call him. His intention (he told me later) was to have me do the part until the actor returned. I'm not sure how many days or weeks I would have played the role, but I later came to suspect that once they saw what I could do, sooner or later I would have ended up doing Snoopy for an extended run, either on Broadway or in a national tour of the show. But none of that materialized, because someone at my phone service bungled things and I never got the message. So they went ahead and got someone else to fill in as Snoopy. As you can imagine, I will always regret this missed chance to be in a Broadway show, even if only for a few days or weeks.

Nevertheless, soon after this I managed to snag a job that promised to be equally challenging, as well as gave me a chance to continue honing my Shakespearean "chops," which I had begun to develop at Syracuse. There, in Spring 1966, I had played the young shepherd Silvius in a major department production of As You Like It. (I also played the Wrestler, who appears in only one scene, near the beginning. I wore an executioner's hood that hid much of my face and took my voice down close to an octave, so that when I appeared as the young lover Silvius several scenes later, using my normal voice, audiences did not realize that one actor was playing both parts.) That summer, the department organized a touring company of the same production. We brought the show to theaters all around upstate New York, Connecticut, and eastern Pennsylvania. During the tour, the show was recast with the same actors playing different parts and redirected. That gave me a chance to play two or three small character roles employing different costumes and voices. Here is the only surviving photo of me as Silvius (which is a bit worse for wear):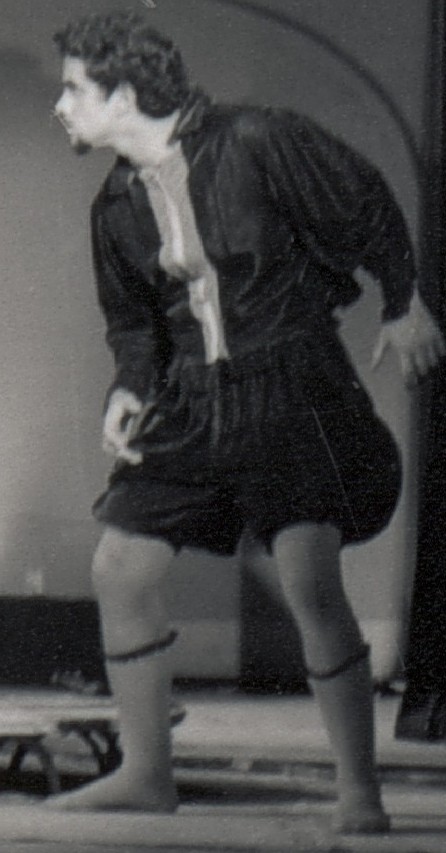 Returning to the aforementioned opportunity in New York a few years later, the National Shakespeare Company, a New York-based troupe run by producer-director Philip Meister and his wife, noted stage actress Elaine Sulka, hired me for a season of touring three shows- Othello, Macbeth, and As You Like It. In the latter, I played Silvius again. I also understudied Touchstone, the court jester, one of Shakespeare's finest and most coveted comic roles. Fortunately for me, I had the opportunity to go on in that part a couple of times during the tour. Playing opposite me, as Audrey, was Ms. Sulka herself. And after the curtain call of the first performance in which I did the role, she took me aside and told me that, despite my never having had any direction or rehearsals in the part, it was one of the best Touchstones she'd ever seen. (Needless to say, that gave me such a swollen head that I could barely get into my fool's cap the next time I played the part!)

In Macbeth that season, I played Donalbain, the younger son of the former king, Duncan. During rehearsals, the director, Mr. Meister, approached me to talk about the look he wanted for the character. He had seen my "atmospheric" head-shot- the one in which I sported a beard. And he told me he liked that general look. Just make the beard "a bit strange-looking," he said, to give it somewhat of a "medieval feeling." You can see what I did with that advice below, where the head-shot is on the left and a photo of me as Donalbain on the right: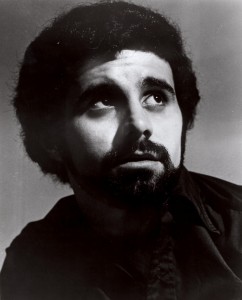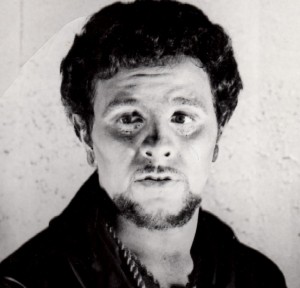 There is a cute story connected to this character and production. Hardly visible in the shot of me as Donalbain above is a slight scar I applied on one cheek to give the impression that even at his young age he had fought in battle and been wounded. At first, it was probably visible to only the audience members in the first couple of rows. But as the performances went by, I began making the scar bigger, a little at a time. Perhaps partly I was testing the waters to see how far I could take it before someone in a position of authority said something. But more of it was just that, as had always been the case, I enjoyed experimenting with makeup. In any case, eventually the stage manager (who was more or less in charge of the production after the director, Mr. Meister, went back to New York to deal with his other touring companies) took me aside and said something like, "Don, don't you think that scar's getting a bit too big?" He asked me to tone it down a little and then keep it on that level for the rest of the run, which of course I did. What I find more interesting about this episode, and I think most actors would agree with me here, is that having a much larger, more gruesome scar on my face did subtly affect my characterization. In general, it was in the same ballpark as before, yet when I looked at my face in the mirror in the dressing room before each performance, I somehow absorbed the painful "life experience" that my Donalbain had suffered on that earlier battlefield. That is, with a tiny scar on the cheek, the character, it seemed to me, was only marginally battle-hardened. But when the scar hideously disfigured his face, I felt that it had to have made him a more bitter and traumatized individual, and although it was, as I said, fairly subtle, that came out in my performances. This shows how makeup can make a noticeable and important contribution to an actor's character.

In the years immediately following my stint with the National Shakespeare Company, I played a number of rewarding roles, including Jeffrey, the middle son, in The Lion in Winter, Victor in Noel Coward's Private Lives (my third encounter with Coward's witty words), the Mad Hatter in Alice and Wonderland (from which the photo at the top of this page comes), Jerry in Edward Albee's The Zoo Story (directed by Joe Rassulo), and Lomov in Anton Chekhov's A Marriage Proposal (directed by Phil Vincent). I also had a juicy part in Star Spangled Story, a five-character musical review in which each of us took on a range of roles. It was a new play written and produced to help celebrate the country's upcoming bicentennial (in 1976). I received excellent reviews, one of which stated, "Don Nardo's Mr. South is a showcase for this talented veteran, and his innumerable bits and songs make this small-cast show seem like a giant powerhouse." Here is a photo from another review I did in this period. In this particular sketch, I and my fellow player at left were semi-inebriated upper-class party boys singing about how boring life would be without access to the best bottles of champagne!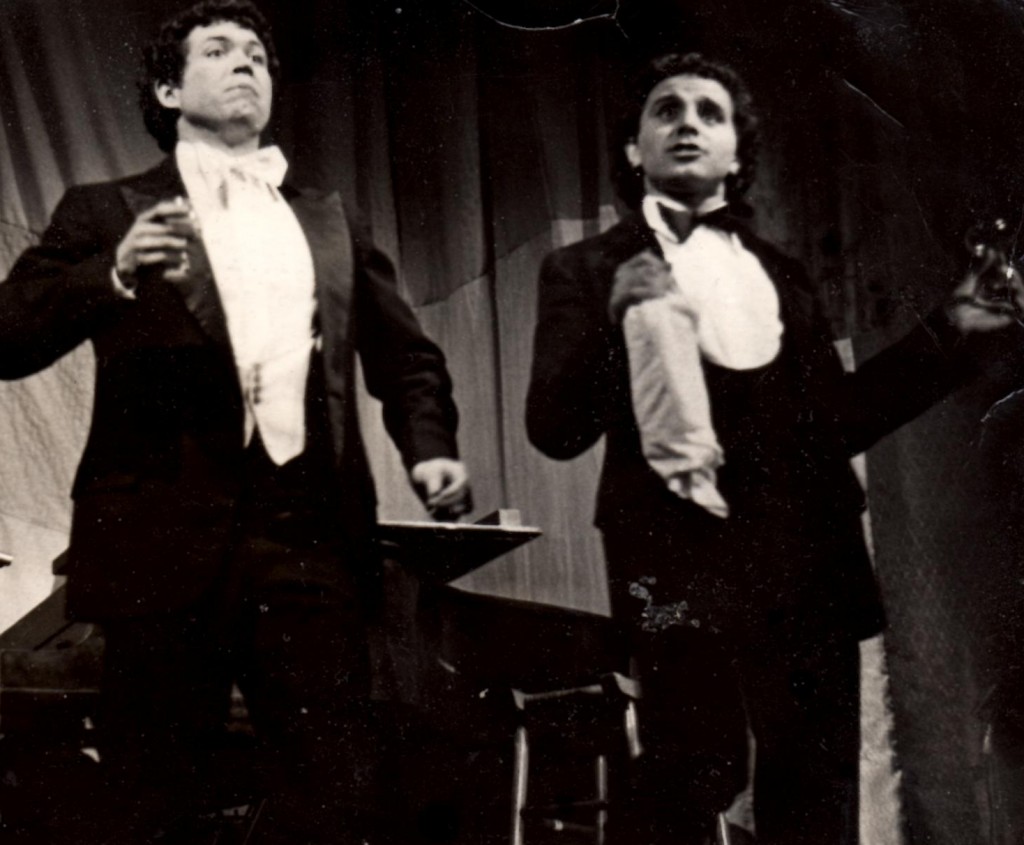 Meanwhile, by the mid-70s I'd made up my mind to at least temporarily put aside acting in favor of writing screenplays and teleplays. First, I greatly enjoyed writing and knew, from comments made by others, that I had considerable writing talent. Also, I reasoned that selling scripts to the right producers and/or studios was a way to break into the business at a "higher," better-paying level than that of a character actor, most of whom are lucky to make any sort of steady living even after 15, 20, or more years in the business.

In the years that followed, I still did a stage or film role now and then, mainly in odd situations in which those roles came to me fairly unexpectedly. One example was playing the Time Traveler in a low-budget feature film of H.G. Wells's The Time Machine. More details about that production can be found on my music page, beside the poster for the film: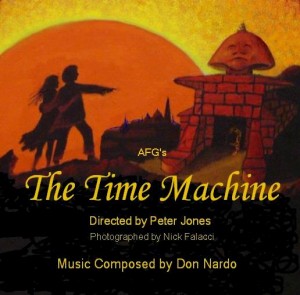 In a nutshell, a group of extremely talented student film makers asked me to get involved. In addition to playing the Time Travler, I composed the music score and designed the makeup for the Morlocks, the deformed subterranean dwellers of the far future who menace the Time Traveler when he climbs down into their dark and foreboding underground lair. Below at left is a shot of me as the Time Traveler between takes on one of the production's elaborate sets. I think I was talking to the director, Peter Jones. At right is a pic of me as one of the Morlocks. One day we were shooting some scenes of these creatures running through their tunnels and my Time Traveler character wasn't involved. For the fun of it, Peter said, "Hey, why don't you throw on some makeup and play a Morlock!" So I did. When you're watching the finished film, at one point in the underground sequence the Time Traveler glances over and sees something. Cut to what he sees: a hideous Morlock snarling at him. The fun part is that both shots featured the same actor!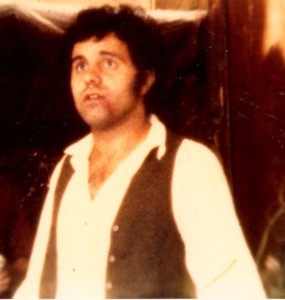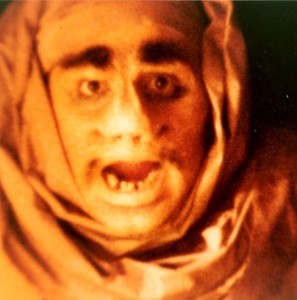 I also played King Lear in a scene from the play that was committed to film. My friend Bob Veduccio, a talented person with a strong interest in film making, had become the manager of a small Boston-based start-up film company that aimed at making commercials, industrial films, and maybe now and then a little more creative product. It was owned by a local wealthy individual. His son, whom I think was in his twenties at the time, was technically in charge and can loosely be called the "producer." I say loosely because he had little or no experience in the film business and Bob actually ran the place on a weekly basis.
Aware of my background in the theater and in screen-writing, at some point in 1983 Bob asked me to help him come up with some ideas for new children's TV shows that the company could potentially produce on low budgets. After we had been working on that for a couple of months or so, the producer said he wanted to put together a demo reel to show potential customers, including TV networks, and give them an idea of what the company could do for them. He desired this promo film to be in the neighborhood of 4 to 6 minutes long and to include a considerable array of production values, including professional-level acting, directing, cinematography, costumes, makeup, and any special visual effects that were possible on a very low budget– what people in the business often call a "shoestring." Only the producer and Bob knew what that budget was, but I gathered it was only a few thousand dollars at best. It was up to Bob and myself to come up with a subject/theme that would translate into film as effectively as possible for as little as possible.
I thought about it for a while and it finally struck me that doing a scene from King Lear might fit the bill. More specifically, I suggested mounting a film version of the final, tragic scene in which the ragged, bedraggled Lear carries the body of his dead daughter Cordelia into view and does his great death speech over her. First, I knew that I would be able to handle the speech myself, which in and of itself would save us the money needed to hire some other competent Shakespearean actor. I also knew that I could do the makeup myself, plus I knew how to build realistic miniature buildings and to do a number of old-fashioned mechanical, or "in-the-camera," special effects shots, all of which could be incorporated to give the piece some decent production values. In other words, I was being paid to direct the film, and for that single fee they would be able to benefit from all my other skills, each of which would be expensive to acquire on its own. That would allow us to spend most of what little money we had on hiring a good cinematographer and paying for a professional edit using the best digital equipment then available (which was not nearly as good as what exists today!).
Of course, we also had to do some heavy "up-front" editing by paring down the scene itself as it is written. In that climactic scene, of course, Lear is surrounded by noblemen, soldiers, and other characters, many of them in armor, as well as horses. To save money, I eliminated all of those people, except for Lear himself and his daughter (who, being dead, has no lines, so hiring a professional actress was unnecessary).
I envisioned that we'd start out with Lear aimlessly carrying Cordelia across a picturesque countryside until he reaches the top of a hill and sees a partially destroyed castle in the distance. As he heads for that edifice, he passes by some remnants of the recent battle, among them some dead soldiers, a wounded soldier pulling off his helmet and armor, a scavenger stripping the bodies of their weapons, and so forth. Eventually, Lear reaches a huge Stonehenge-like monument and a giant altar-stone somewhere inside the castle grounds. There he puts his daughter's body down and does his speech (railing against the gods, spirits, and elements). And finally, he dies.
Bob hired a very talented Boston-based camera operator named Herb Fuller, who I later worked with on other film projects. Meanwhile, I got some talented local community theater actors to play the dead and dying soldiers and the scavenger, and put my wife Christine and a few other capable and trusted people I knew in charge of creating the costumes. For the long shots of the castle and Stonehenge-like monuments, I built some large, very realistic balsa-wood models. As it happened, I knew someone who owned a company that made sewage systems and got permission to dress up an enormous (12X6X6-foot) concrete block to look like an ancient altar-stone. I did my speech atop that stone. Then, we combined the full-sized stone with the model sets by using forced perspective, hanging miniatures, and other "in-the-camera" tricks. Later, the editor used digital effects to match colors, add an echo effect for the long shots of my speech to give the impression of distance, do fade-ins, fade-outs, and dissolves, etc. In addition, we dubbed in some terrific orchestral music, mostly by Anton Bruckner. (I would have composed the music myself and hired an orchestra to play it, but of course the tiny budget made that impossible.)

The end-product, which we appropriately titled "The Death of King Lear," was extremely effective considering the miniscule budget. Exactly who the producer showed the piece to, I never learned. Unfortunately for all concerned, and for reasons unknown to me, his company went out of business a year or two later.
Here are some photos that my wife Christine took of the shoot. First, below, me in full costume and makeup.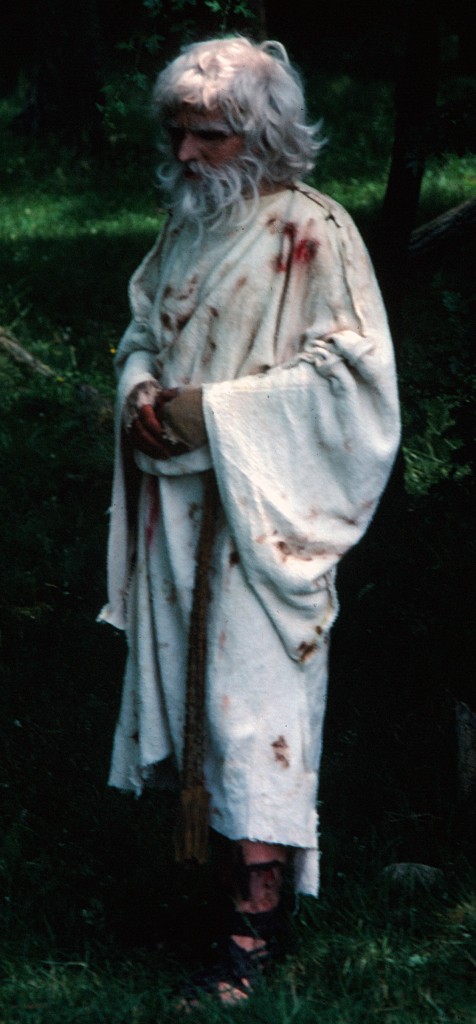 Next, me standing on the altar stone while the crew prepares to shoot. Bob V. stands on my left.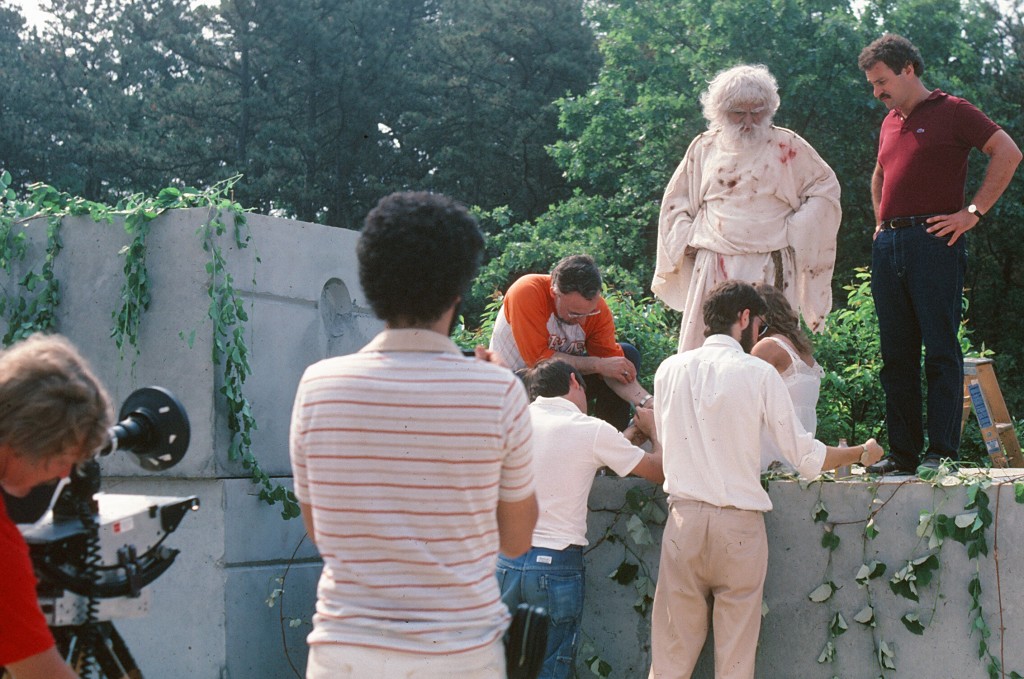 Here, Herb Fuller, who later became a friend, gets ready for the first take.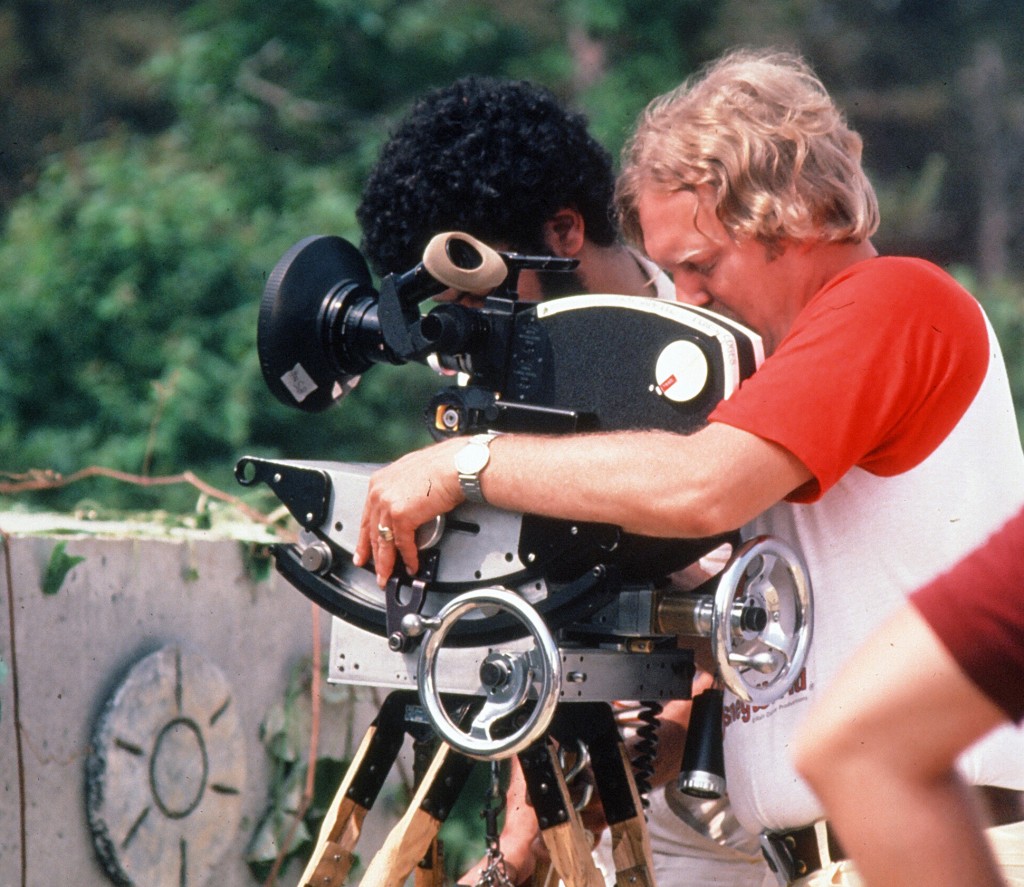 While the crew is setting up, I sneak a couple of minutes for a last rehearsal of the speech.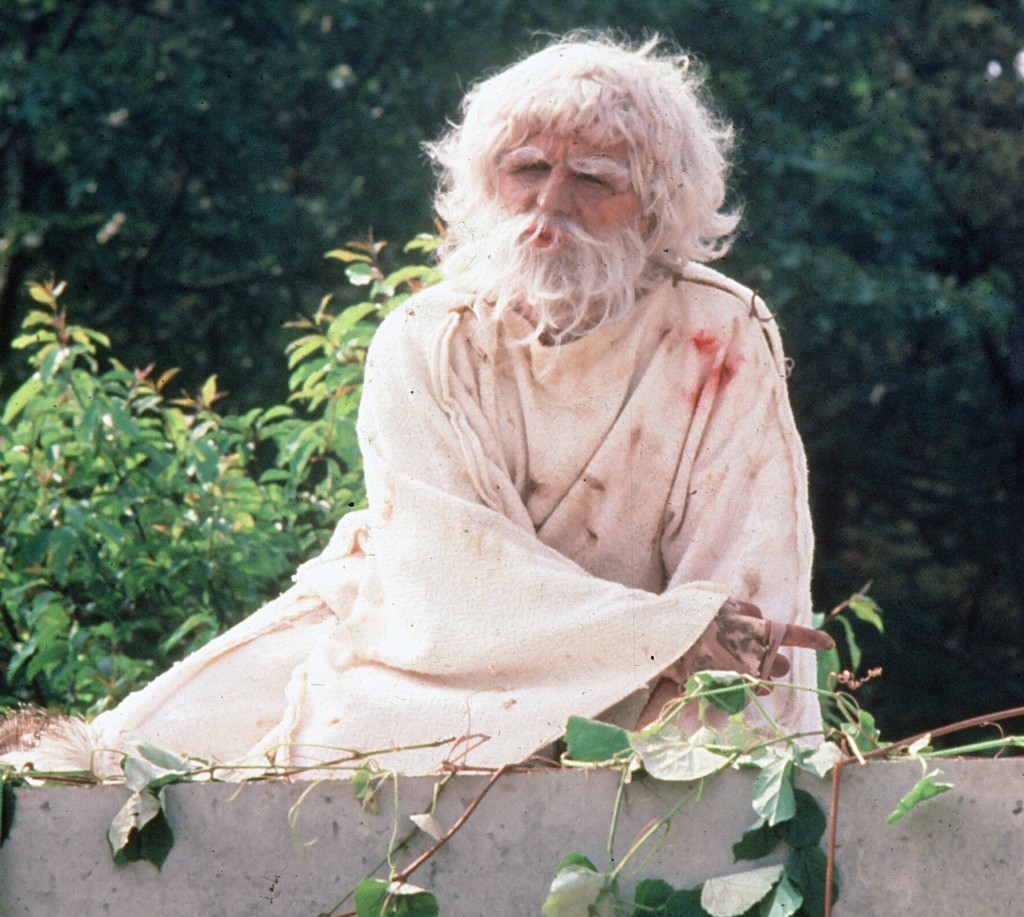 A few minutes later, my father-in-law, Paul Nielsen, and I chat. As has happened on other later shoots, Paul, a talented actor who has done a lot of community theater, doubled as a grip and a character in the story.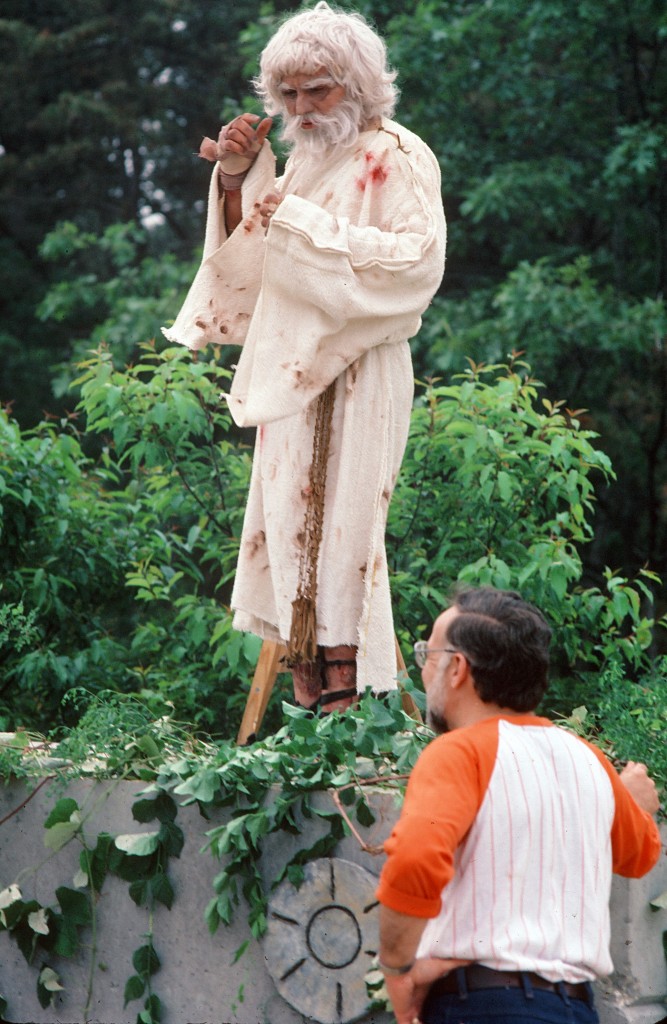 Here he is a while later posing in his getup as a soldier in the battle that precedes the speech.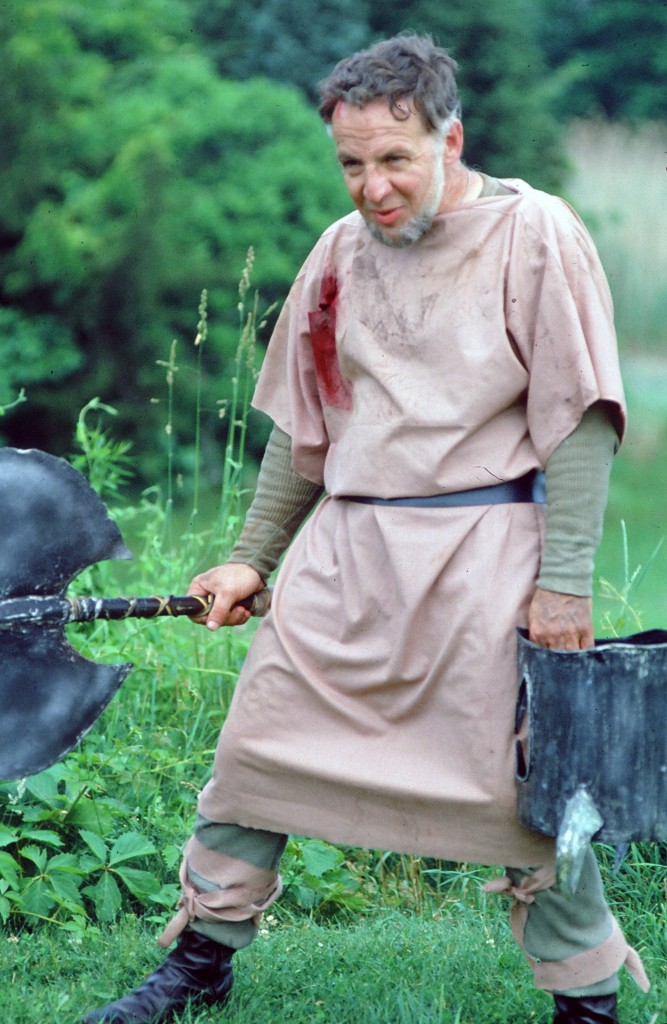 As the shooting commences, Herb records it on film.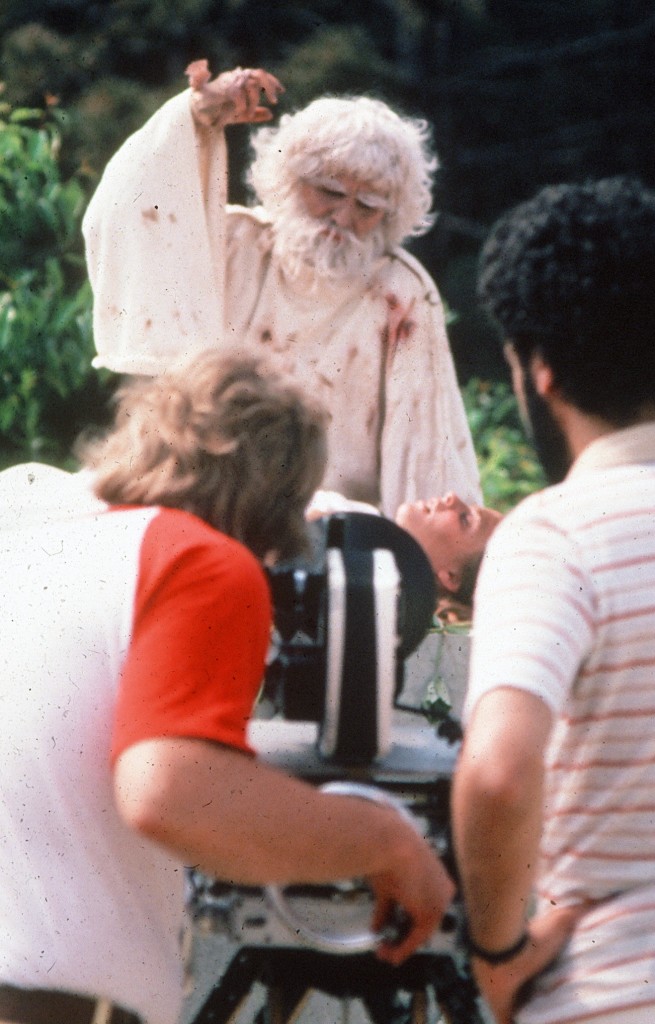 Now a few shots from the actual film. Here, in a scene shot earlier that day at another location, Lear carries his dead daughter Cordelia across the battlefield.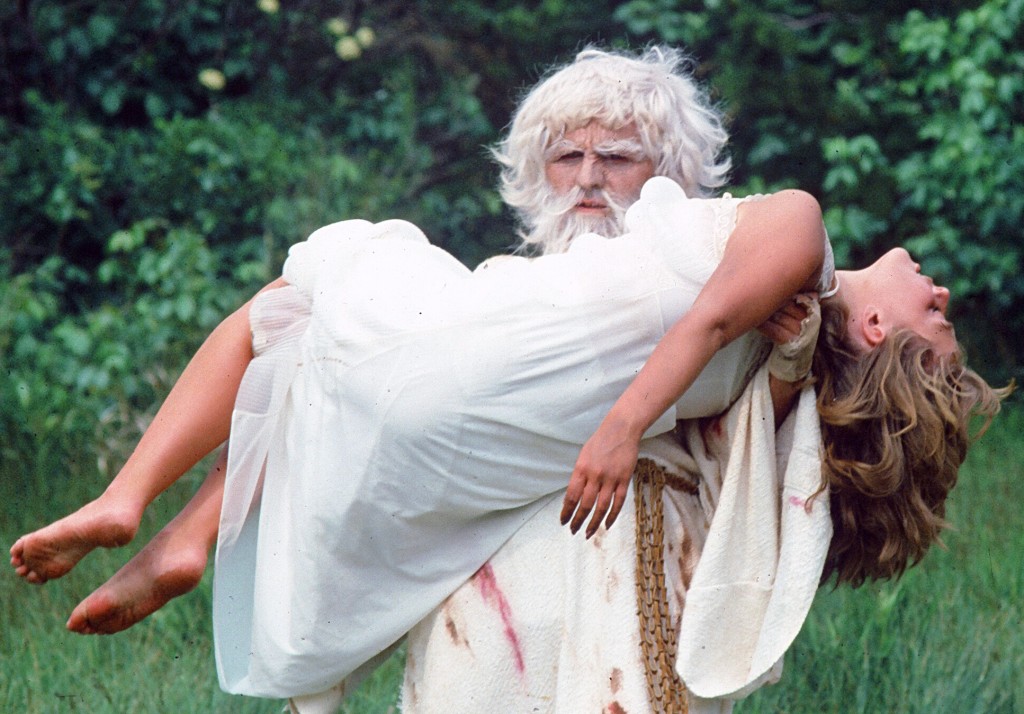 Along the way, he passes a badly wounded soldier.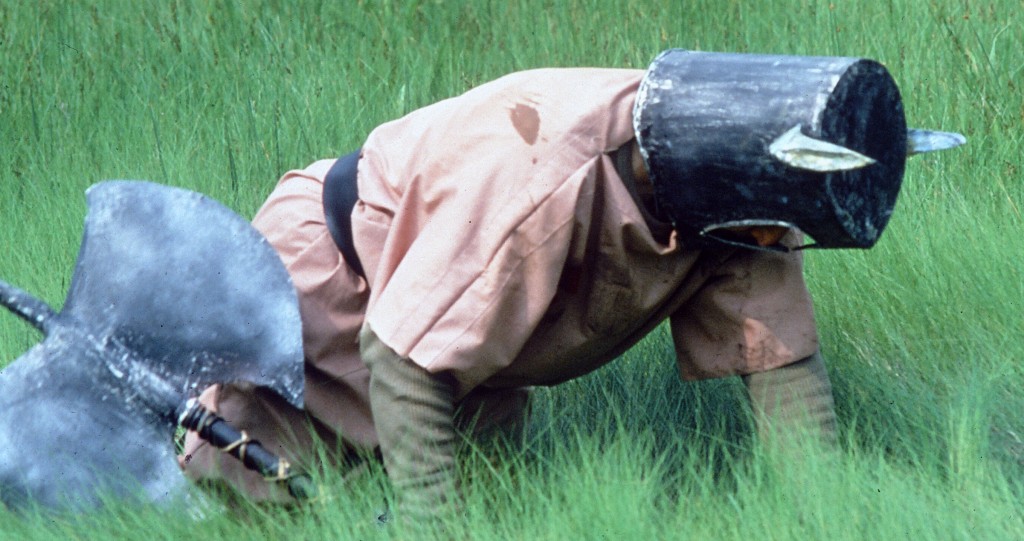 Having made it inside the castle grounds, Lear carries the body onto an altar stone and delivers his death speech (At the end of the speech, he dies. In the film, after that a series of dissolves take the viewer back to a spot on the battlefield, with the ruined castle looming in the distance. Slow fade to black.)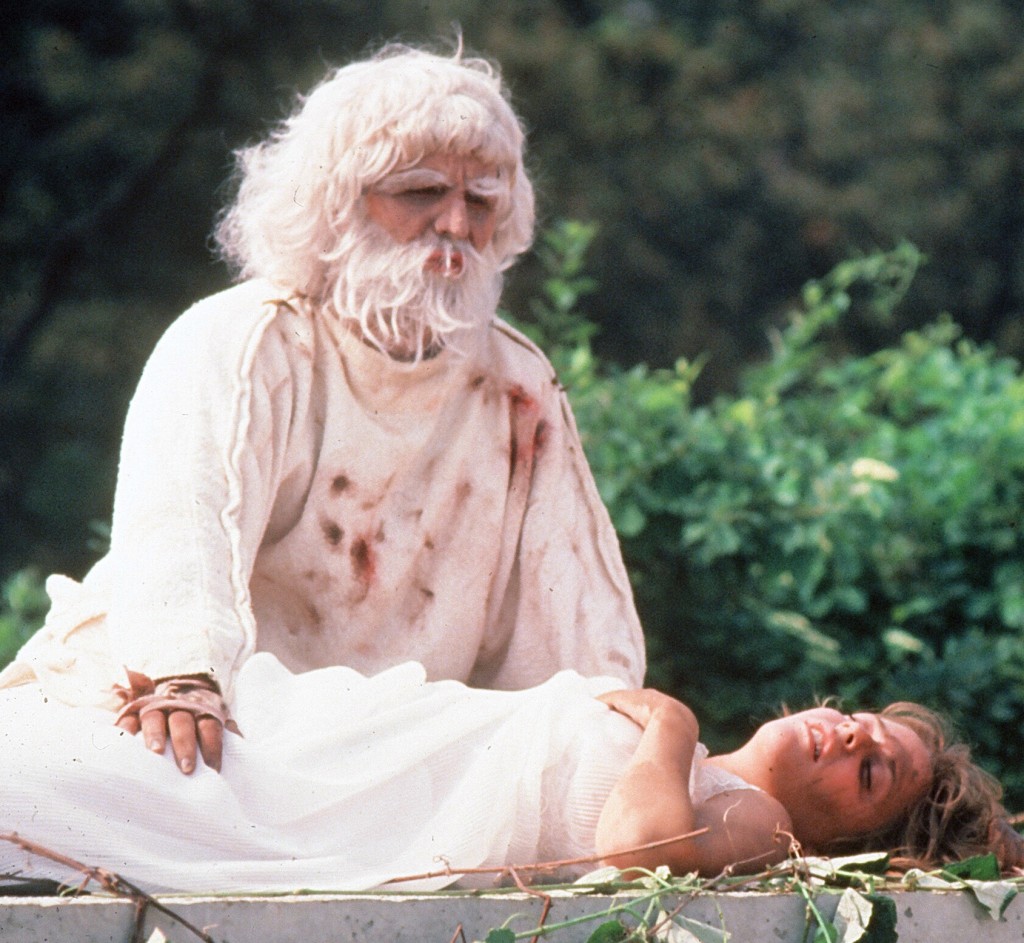 The next film project to materialize for me in the 1980s was an episode of the ABC prime time series Spenser: For Hire, starring Robert Urich as the famous Boston-based detective. Before getting into the specifics, it must be noted that in around 1980 I had begun writing some of my film and TV scripts with Peter Jones, the talented young film maker whom I had worked with before on The Time Machine and who after that had attended NYU film school. Together, we turned out several feature screenplays, along with some teleplays for a couple of the Star Trek series that were then on the air.

It turned out that my friend Bob Veduccio, whom I had worked with on the King Lear project, knew someone involved with the Spenser show, which shot most of its episodes in Boston. Bob told me that if Peter and I could write a script for an episode of the series, he could get it to the right person and it would get read.
Long story short, Peter and I knocked out the script, titled "Skeletons in the Closet," Bob got it to his contact, it got read (surprisingly rapidly), and they immediately bought it and rushed it into production.
For a while, I wondered why it had all happened so fast. And I soon found out. Shortly after the episode first aired early in 1987, I was speaking on the phone with someone at Warner Bros. Entertainment, which made the show for ABC, and he told me that when we submitted the teleplay to them, they felt it was the best outside script (that is, not written by someone involved with the production company or with ABC or Warner Bros.) they had ever received for the series. He went on to say that "it was a real shame." When I asked him what he meant by that, he pointed out that normally Warner Bros. would have asked Peter and me to write some more episodes for the show, but that the decision had only a few weeks before been made to cancel the series after that season (number 3), which at that point was almost over. Just our luck, right?
Nevertheless, I realized that we did have that episode to fall back on and show to agents. As a matter of fact, not long after the episode aired I contacted ICM (International Creative Management), one of the 3 or 4 leading film agencies in the country. An agent there looked at both a videotape of the episode and the script, and she offered to represent us. For reasons too involved and personal to go into here, however, we ended up turning her down.



Makeup Jobs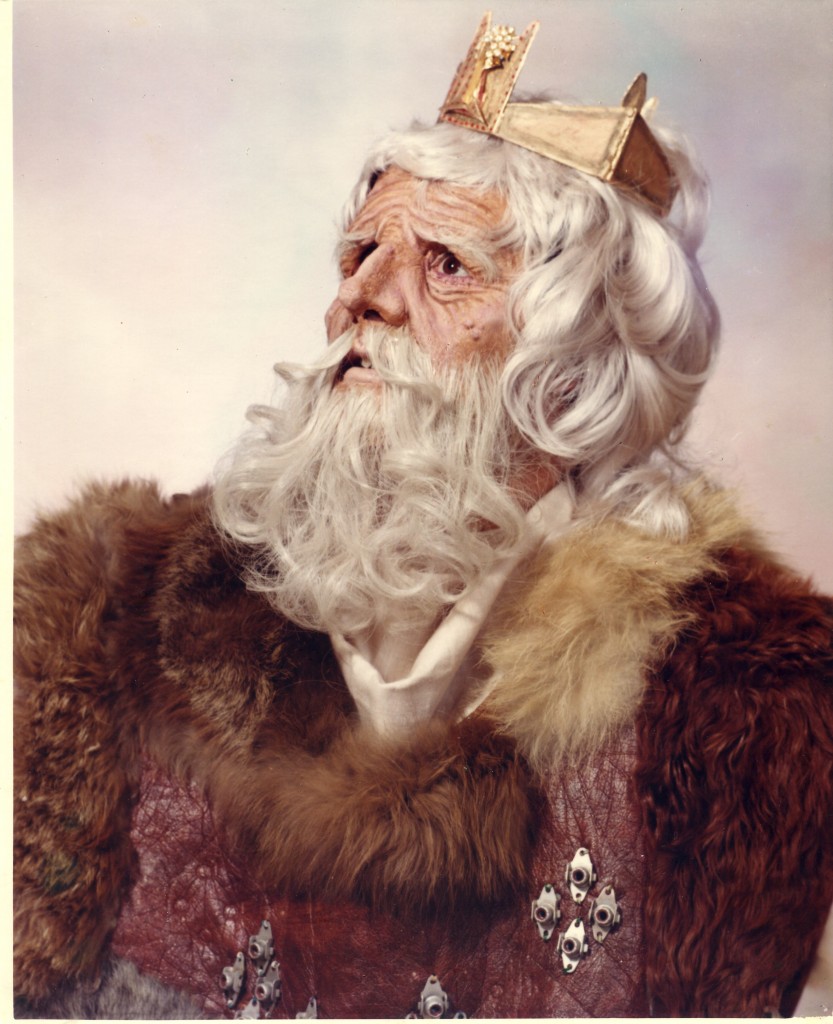 That's me as King Lear, a picture taken when I was in my mid-twenties. As I mention in the text of my bio page, I became fascinated with stage and film makeup when I was very young. And I proceeded to teach myself the craft through a combination of careful observation of professional actors wearing makeup, reading books on stage makeup, and relentless trial and error. Eventually, when I was old enough, I also began experimenting with makeup techniques on myself for my own roles. One of my favorite venues was Halloween, and for many, many years I planned elaborate Halloween makeups, most often of monsters and other extreme characters because those roles tend to require complex collections of materials and techniques. The demon on the left below and the Mr. Hyde on the right are examples.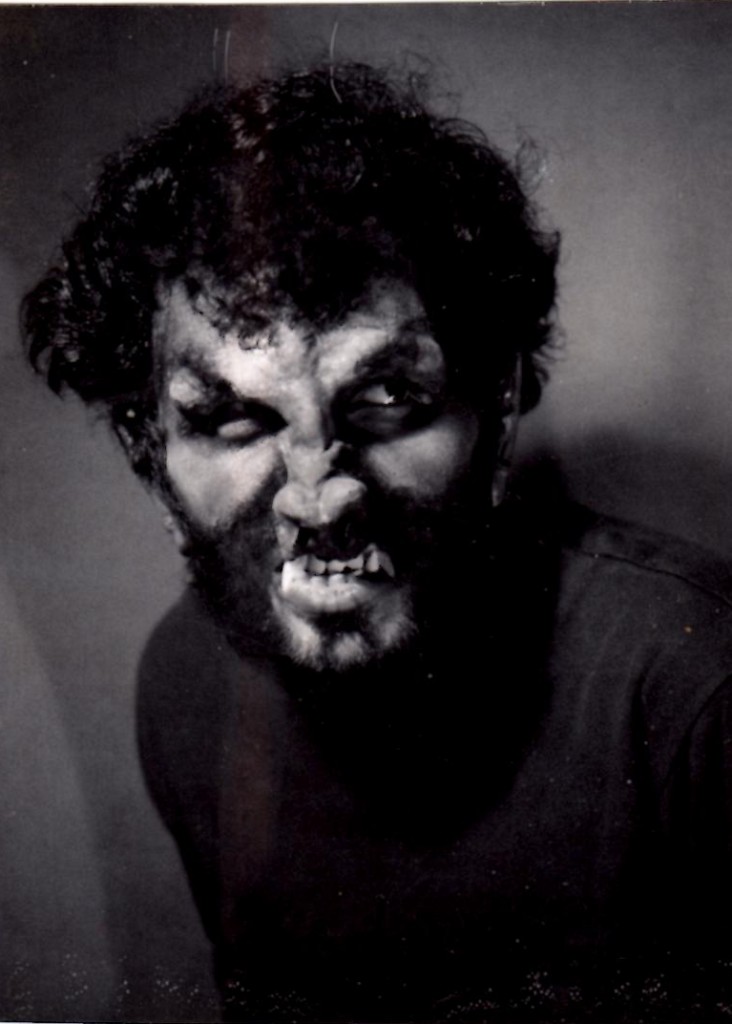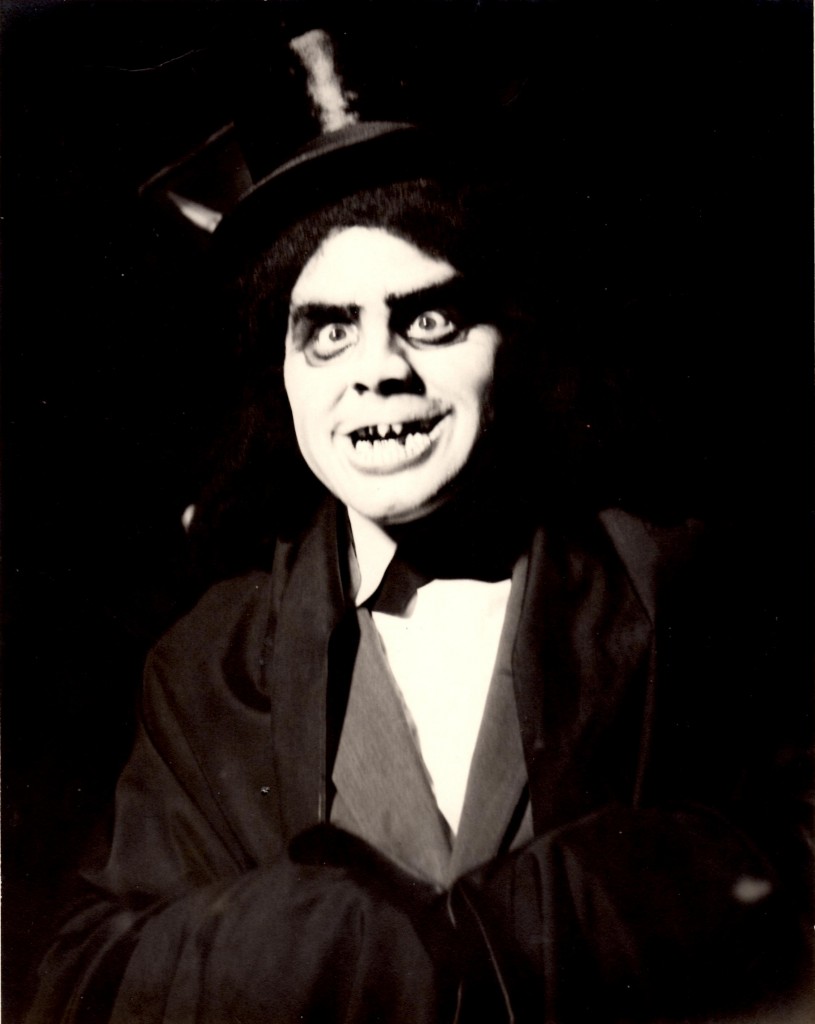 Keep in mind that over time I would do many different versions of Mr. Hyde, or demons, or werewolves, or Quasimodo (the Hunchback of Notre Dame), and other characters, playing with variations in design and trying new techniques and/or materials. Indeed, Quasimodo was and remains one of my all-time favorites. Here are only a few of the dozens of different versions of that great character I've done, in each case listing my approximate age at the time the makeup was done:




















The one done when I was 47 was for a presentation at one of my local libraries. (I frequently get requests from libraries and schools to do talks and demonstrations of various kinds. I have said yes to an estimated 20 of them over the past couple of decades.) In this case, I did the Quasimodo makeup step by step in front of about 15 to 20 children. I began by showing them a scene from the 1939 film version, with Charles Laughton as Quasimodo. Then I showed them some of the plaster casts from which I make the rubber pieces. Little by little, I applied the rubber pieces and other kinds of makeup, telling which materials were used and why. (Christine helped me make an appropriate costume, which I was wearing when the kids arrived.) Here is a photo showing me talking with some of the kids after the presentation was over.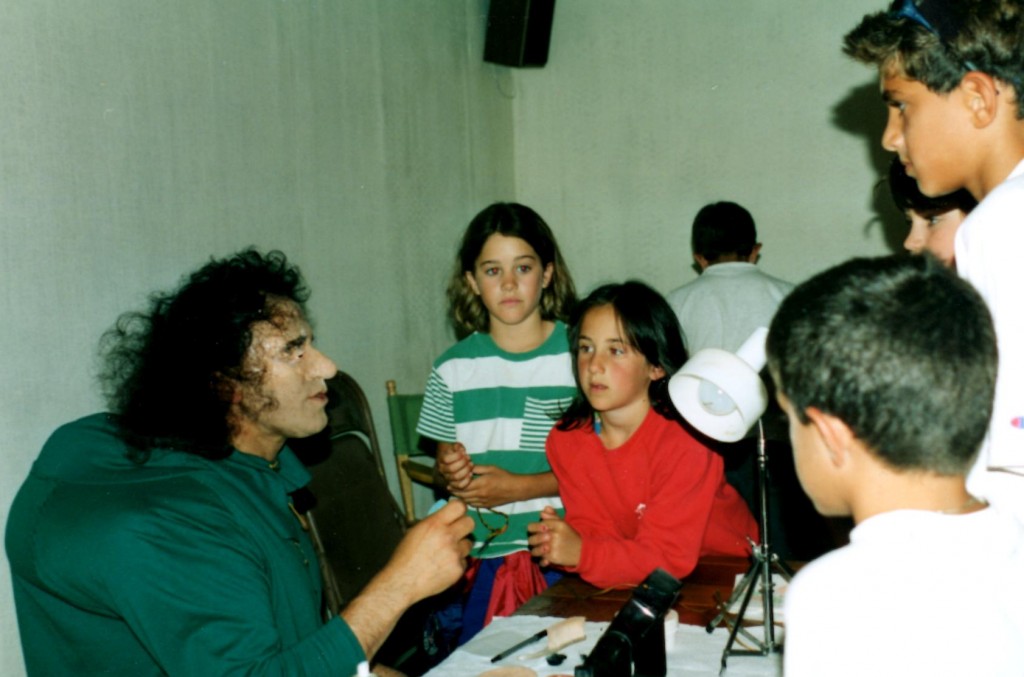 I wish that I still had photos of some of my earliest makeups, but I don't. I think I was around seven or eight when I started tinkering together my first makeup kit. From the very first, I was very ambitious and didn't hesitate to try to reproduce some of the complex character faces that I saw in movies and in movie magazines like the late Forrest Ackerman's Famous Monsters of Film Land.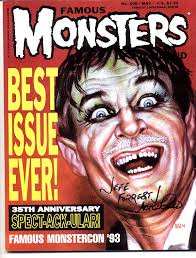 Issues of that venerable old publication were the kind of "treasures" that aspiring makeup artists, actors, and horror movie fans of that era never, ever threw out. We kept them and re-read them over and over until they were literally falling apart. I was particularly appreciative that Ackerman often included shots of Lon Chaney, the silent film actor who came to be called the "man of a thousand faces" thanks to his elaborate makeups, including those for The Hunchback of Notre Dame and The Phantom of the Opera. I often attempted to do makeups of that complexity, although it took me quite a while to even BEGIN to approach Chaney's level of expertise.

Some of my favorite "repeat" makeups, that is, ones, like Quasimodo, that I did various versions of over time, included werewolves, clowns, and "atomic mutants." Doing such mutant makeups allowed me not only to express my creativity, but also to experiment with all sorts of materials and methods to achieve complex, often horrifying effects. Here are three early atomic mutants, perhaps from when I was about twelve or thirteen. (Sorry for the poor quality of the one on the left. Some of my older photos have deteriorated badly over the years.)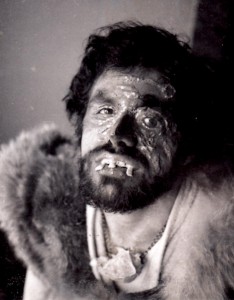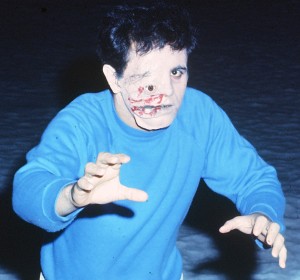 And here are some very early attempts at werewolves. Again, I was about twelve or thirteen.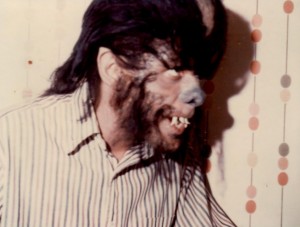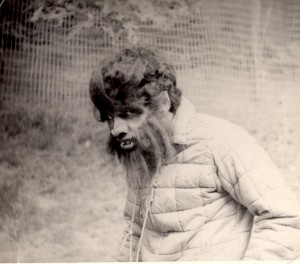 Compare these with one I did when I was in my twenties: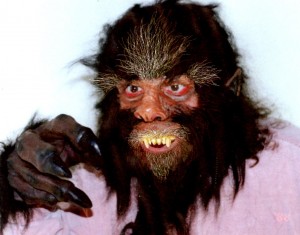 Here are a couple of early clowns: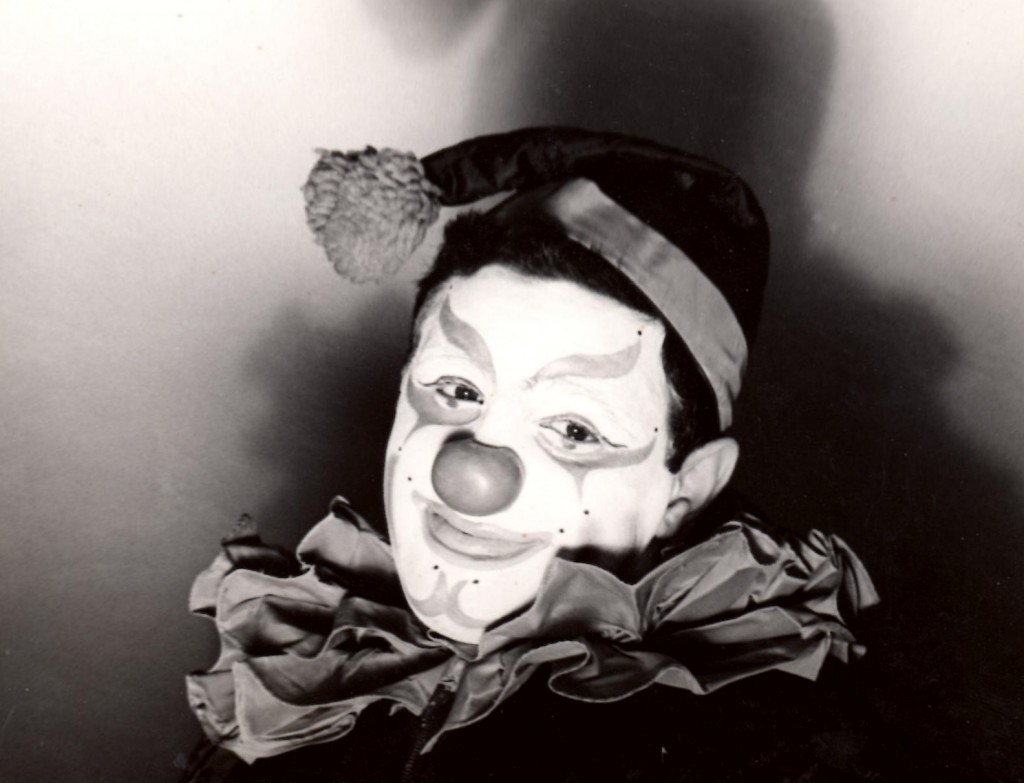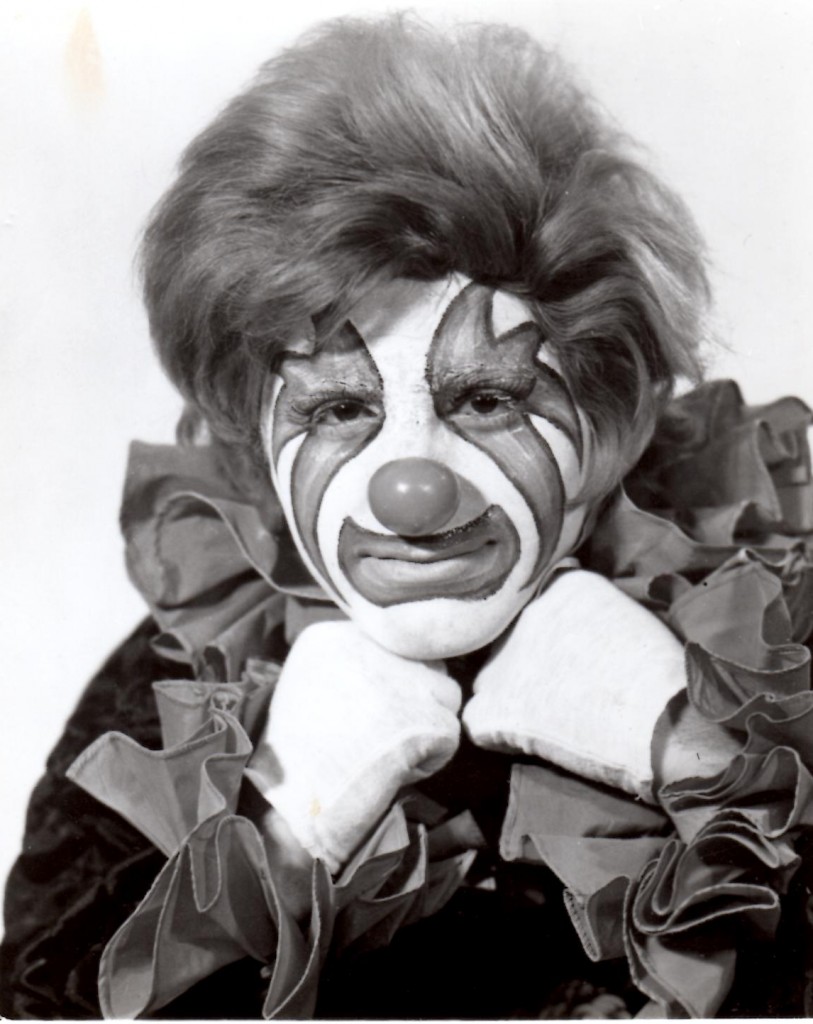 As I said, over time I got better and better at it and the quality of my makeups improved. Here is a version of the title character from Oscar Wilde's classic "The Portrait of Dorian Gray," in which Dorian does not age. Rather, he stays young and handsome in his daily life, while in his attic lies a portrait painted many years before. That picture has changed over time, reflecting the dissipation of his character and his soul's decay into ugliness and cruelty.This makeup was done when I was about fifteen.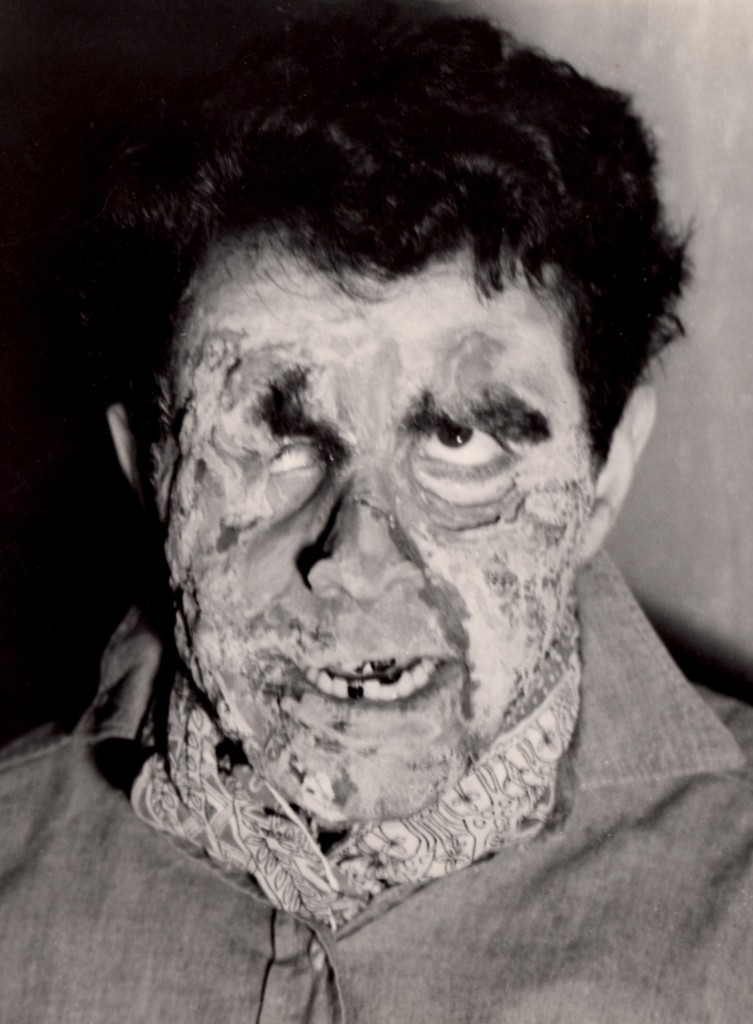 This is me at my makeup table around the same time as the above makeup.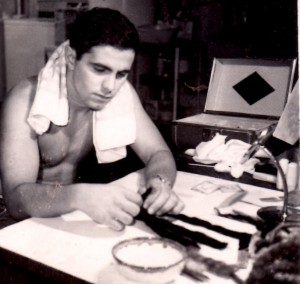 Here, at left, is an early attempt at King Lear, done I think at about age sixteen. At right, for comparison, is the Lear makeup I placed at the start of this section, which I did at about age twenty-five. (Only this is a different photo of it.)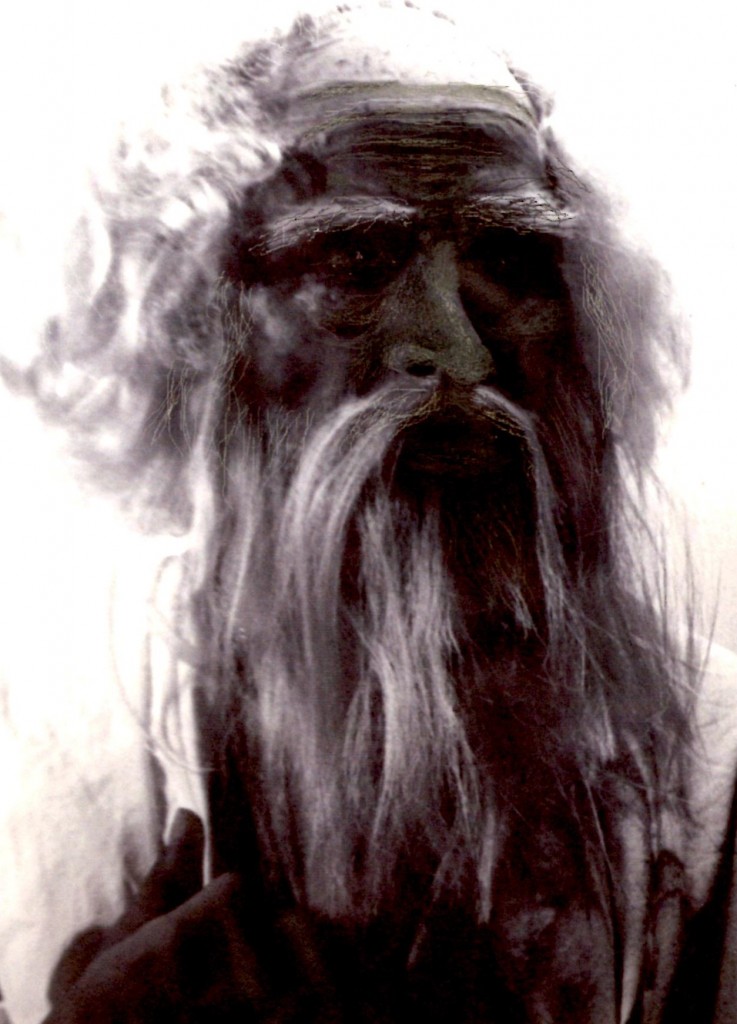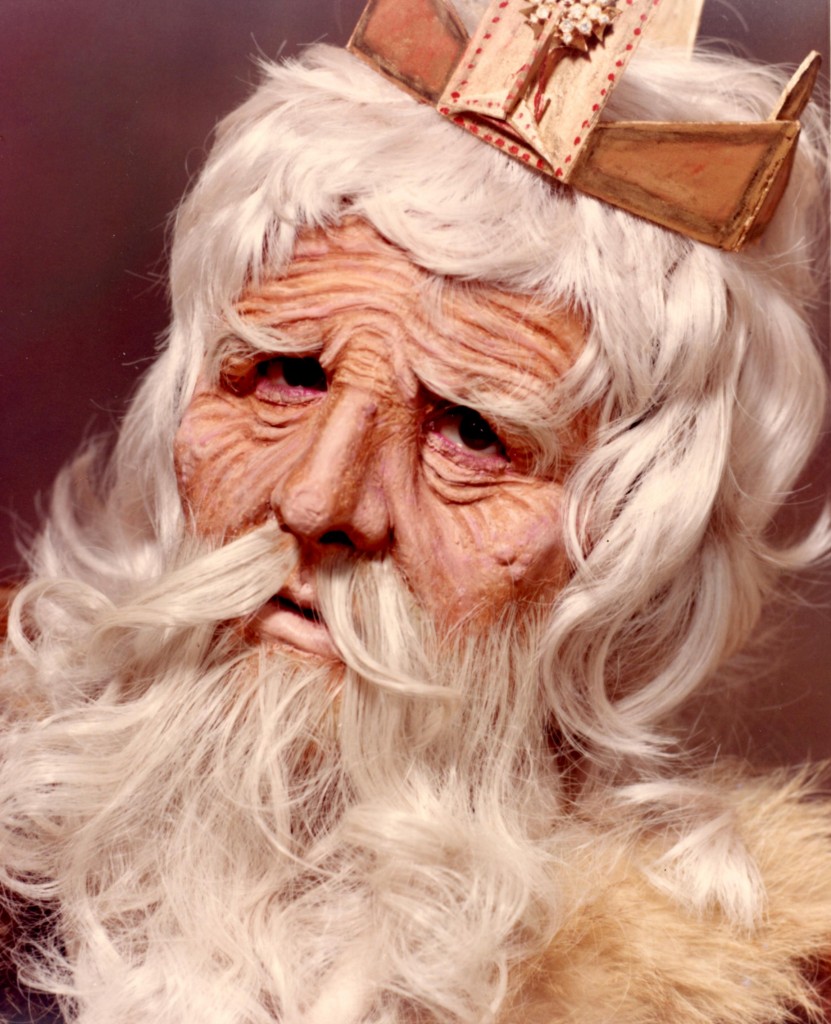 In addition to Lear, I did makeups for many other classic literary characters over the years, some for actual productions, others just to try to capture the character. I did several versions of Cyrano, for instance. Here is one done when I was in my twenties: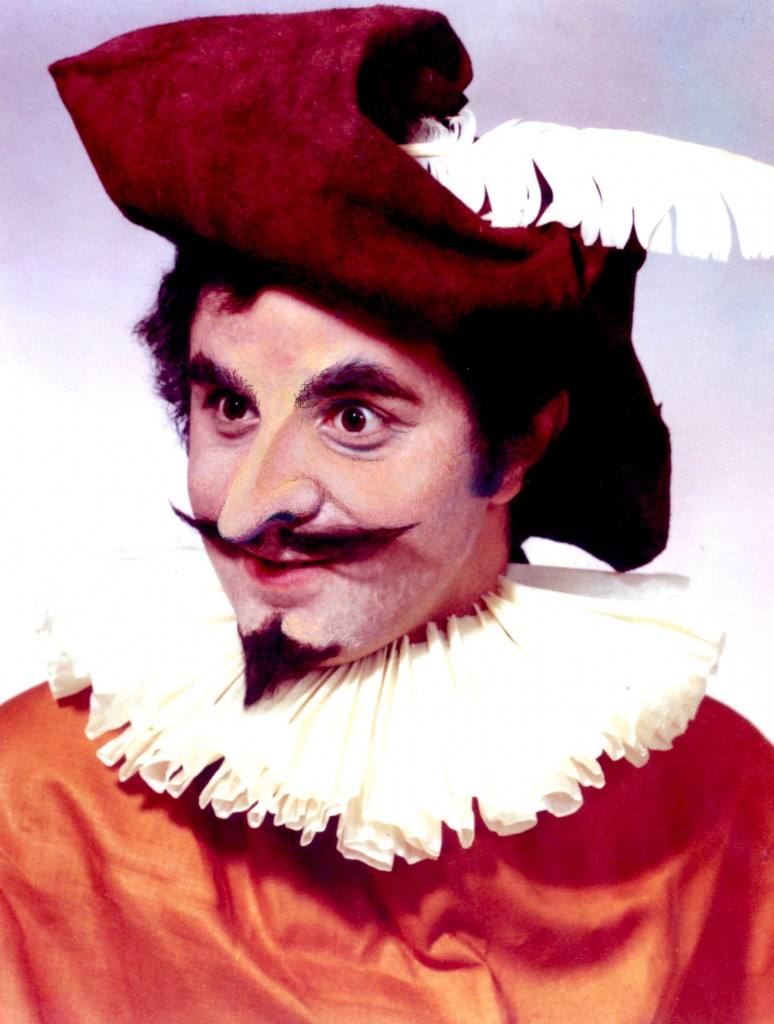 Next is a makeup of one of my favorite Shakespearean characters, Othello. It was done back in 1966, when I was nineteen. I think that because times have changed a lot since then regarding the playing of this character, an explanation might be in order. Shakespeare originally wrote the part to depict a Moor. The Moors were a late medieval people who inhabited parts of the Middle East, North Africa, and some Mediterranean islands. They were of mixed ancestry, including some African, Arabic, and other strains, so their skin color ranged from fairly dark to not too much darker than the average Caucasian.

For various reasons, over time it became customary for most actors to play the character with very dark skin, like that of many sub-Saharan Africans. Also, from Shakespeare's day on, and for a long time, mostly he was portrayed by white actors wearing dark makeup. In the twentieth century, however, African American actors were increasingly given the chance to play the role, and rightly so, since with few exceptions they had not been allowed to do so in the past.

Nevertheless, a few white actors still occasionally played Othello wearing dark makeup. The most notable example was the great Laurence Olivier in England's famous National Theater production in the early 1960s. I saw the film version of that production in 1965, while I was in college, and was immediately blown away by the power of his performance. The makeup below was done only a few months after that, and it's clear that at the time I assumed that if I ever played the part, I would do it with dark skin, as Olivier had.

However, during the ensuing decades, I came to feel that it would work better for me to play him as a lighter-skinned Moor. And since my own complexion is quite "Mediterranean" (since I have eastern Mediterranean forebears), I know now that I will do the role without changing my skin color. I might add a beard and perhaps some tattoos or a scar or something along those lines, but I will concentrate more on my portrayal than on my appearance. In any case, this was one of the most convincing, and certainly one of the more dramatic, makeups I ever did. Or at least I think so. Please judge for yourself.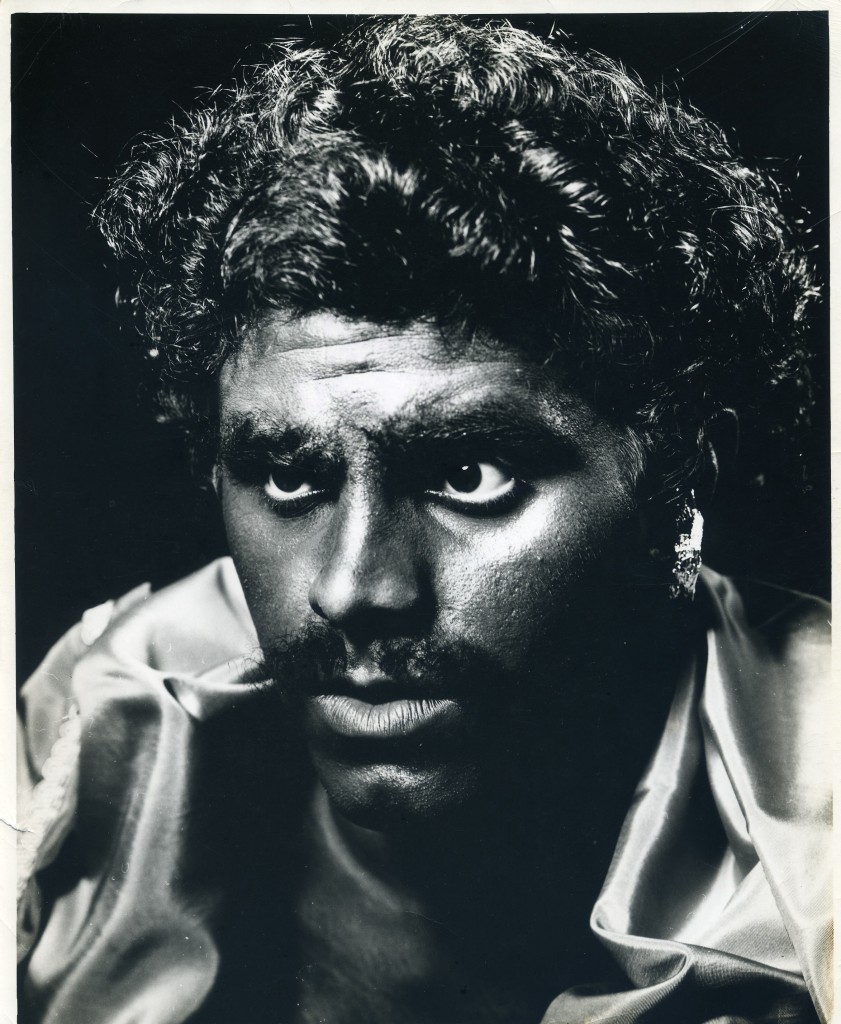 Another of my favorite Shakespearean roles is Hamlet (no surprise, as nearly every serious actor dreams of playing the part!) I've done several different kinds of makeups of the character over time, searching for a "look" that will work for me. At the left, below, is a shot of my blond version (based on the reasoning that the character is Danish and therefore might well be blond). Well, it didn't take me long to dump that idea, since I found that I look absolutely ridiculous as a blond! I can't imagine you'll disagree that the version at the right, which utilizes my regular features, is immensely better.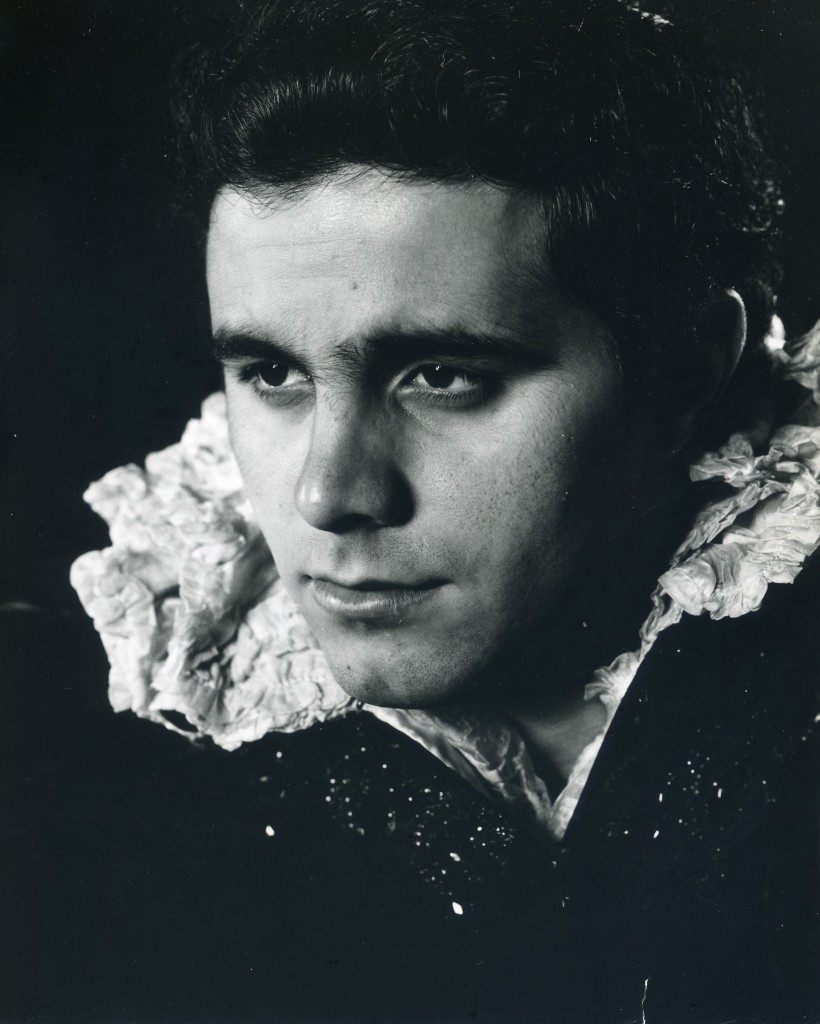 As I mentioned near the start of this makeup section, another classic literary character I've explored in multiple makeups is Mr. Hyde. Here is one of the more effective ones, which I did when in my twenties: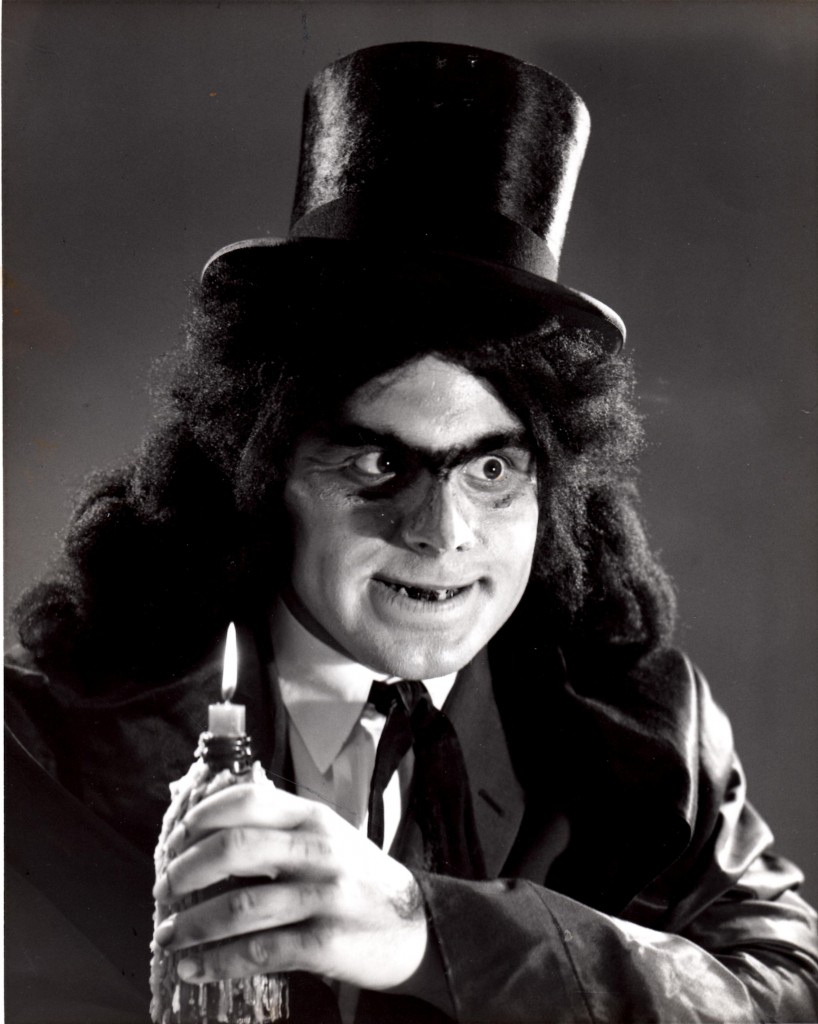 Here are only a handful of other assorted character makeups I've done over the years:



"HE" in the Russian play "He Who Gets Slapped"
---